I live in south Florida where everyone spends a lot of time outdoors. When my kids were young, I made sure they all had swimming lessons. We spend days off and vacations at the beach or in the pool. I actually thought my son might join a competitive swim team, but he went with martial arts instead. Some of my favorite memories of growing up are of my best friend and I creating our own swimming olympics in my backyard pool. I have put much thought into these gifts for swimmers. There are gifts for all ages and levels, whether swimming for fun or in competitions. I also included gifts for pool swimmers, beach swimmers, training gear, and swimming gifts that are just for fun.
Swimming related gifts
Amazon.com
These bags have compartments for accessories, are durable, and have sections made for wet bathing suits, swim caps, and goggles.
Another useful gift for a swimmer is a microfiber towel that is fast drying. Whether he or she swims at the pool or the beach, a swimmer needs appropriate footwear. Deck slides are fine for walking in the locker room. However, water shoes are better gifts for swimmers that swim at the beach. These shoes are breathable but protect the feet from sharp rocks and shells.
Swimming gifts for a coach
Amazon.com
Waterproof stopwatches make great swimming teacher gifts because coaches need to time competitors without worrying about water damage.
Another useful swimming teacher gift is a waterproof messenger bag. A coach needs to keep papers organized and keep track of events. This bag is sturdy but waterproof, so the coach won't have to worry about it getting splashed. A coach also spends many hours on deck out in the sun. Swim shirts with UV protection make good swimming teacher gifts.
Best gifts for swimmers
Amazon.com
Swimmers who spend a lot of time in public pools need goggles to protect their eyes from the chlorine. Choose a pair that is anti fog.
A decorative swim cap is a good swimming gift for her to protect her hair. They make extra large ones for women with long hair or weaves. Choose from cool designs or have a personalized gift for your swimmer created by uploading a photo. Don't forget to get a swim cap for kids. They need to protect their hair from chlorine too.
Gifts for adults and kids who love swimming
Amazon.com
A pool volleyball set is a great gift for someone who likes swimming. Some sets include basketball as well.
Another fun pool game is Toss 'N' Splash, an inflatable game where you have to throw small lightweight balls into holes for points. It reminds me of a round version of the arcade game Skee Ball. For more fun get an inflatable slide for your pool. Hook it up to a garden hose to activate the sprayers. Then climb up and slide into the pool. This is a great gift for swimmers ages 6 through adults.
What every swimmer needs
Amazon.com
When you don't use a cap, chlorine can really take a toll on hair, sometimes even turning lighter hair green! (Although, now people pay for that color!) Special shampoos and conditioners are formulated with natural ingredients to rehydrate damaged hair.
For severely damaged hair get her a hair mask to repair chlorine damage. Get a good detangling brush as well.
Gifts for competitive swimmers
Amazon.com
Hand paddles increase resistance and develop strength.
A training pull buoy is another gift for the competitive swimmer. It is placed between the thighs to promote proper positioning, allowing swimmers to focus on stroke technique. While hand paddles and training pull buoys focus on upper body strength and technique, a kickboard will help the swimmer build leg strength.
Fun gifts for swimmers of all ages
Amazon.com
Snorkeling is a fun swimming activity that can be done in the pool or at the beach. Snorkeling gear is a good senior gift for swimming. While I am usually rushing on my lunch break to get in some laps, I often see seniors at the pool enjoying themselves snorkeling. Why not? I would too, if I wasn't working. I see seniors snorkeling at the beach as well. It is a fun low impact exercise.
Body boards are also fun gifts for swimmers who like the beach. These also make good swimming gifts for girls and boys because they build upper body strength. Good swimmers might want to try surfing. A beginners' surfboard can be a good Christmas gift for swimmers. Boards come in different sizes for kids, teens, and adults. Many come with removable fins and can be used for several water activities such as fishing, paddle boarding, surfing, or water yoga.
Gifts for swimmers who like the beach
Etsy.com
Swimmers who like to hit the beach will like this handmade high UV polyester beach bag with a waterproof lining. The bags are made from a durable outdoor fabric to make them long lasting. They also have an inside zipper pocket perfect for driver's license, cash, and keys. Bags are 23" wide and 16" deep and can hold several towels plus other beach gear. These are made in the U.S. so you are supporting American workers.
Get a beach towel with her name as a personalized gift for a swimmer. Although fun, the beach can have several hazards. A compact first aid kit is a good swimming related gift to keep in the beach bag.
Cool Swimming pool gifts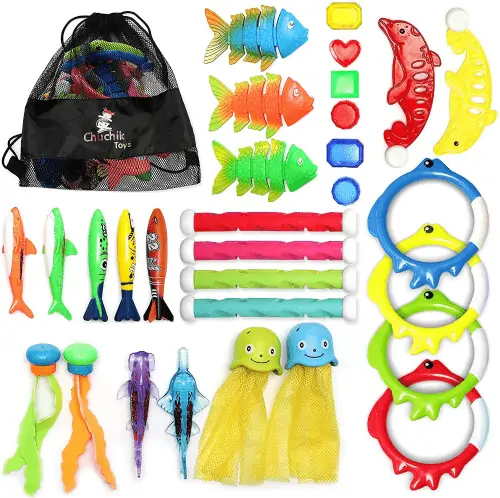 Amazon.com
Diving toys are good gifts for swimmers. These toys will help improve diving skills. Get a set that includes rings, gems, torpedoes and more. These swimming gifts are good for all ages, even little swimmers.
Another gift for someone who likes swimming is an assorted swim through rings pack. For fun above water, Chicken Fight inflatables are a funny gift for swimmers. Climb on top of these inflatable chickens while in the pool, and try to wrestle the competition off their chicken first. My mom always told me she and her friends would do this, but back then they had to sit on someone's shoulders and use them as human chickens. I think using floats is better.
Useful presents for swimmers
Amazon.com
What's a good gift for a swimmer? Chlorine not only damages hair but skin as well. Every swimmer needs good skin care products which will clean chlorine residue off skin naturally without stripping the body of natural oils. A good rehydrating lotion is also a must to repair cracked or peeling skin.
What do you buy for an outdoor swimmer? Lots of high SPF sunscreen. With lots of hours outdoors, outdoor swimmers go through a lot of sunscreen. Make sure to get some formulated for faces too. The ones for faces tend to be less greasy to prevent breakouts.
Gift ideas for swimmers
Amazon.com
The proper swim suit makes a big difference. Whether competitive swimming or just doing laps for exercise, she can't worry about her bathing suit slipping off or cutting into her skin. If you know her size and style, you can get her a swimsuit specially made with competitive swimming in mind.
Speedo has a wide range of swimsuits for men which make good swimming gifts for him. Don't forget about the kids. Girls and boys need new swimsuits too, especially since they grow so quickly. Plus the chlorine in public pools destroys the fabric.
Christmas gifts for swimmers
Etsy.com
A personalized ornament is a nice keepsake gift for a swimmer. It is also a good swimming teacher gift for her to remember you by. Just make sure to have your full name put on it so your teacher will easily recall who gave it to her. My mother was a dance instructor for many years. Each Christmas, we look at all the ornaments she was given over the years and reminisce about the students.
Wall art also makes a nice swimming themed gift. For a unique swimming pool gift, get a swimmer a Finis Underwater MPS player. This way they can listen to their favorite tunes while getting a workout.