World of Warcraft, also known as WoW, is the most popular MMORPG or 'massively multiplayer online role-playing game' in the world. Tens of millions of people play and love the game and it is even considered as one of the highest-grossing video game franchises of all time. Therefore, chances are that one of your closest friends or family members is a WoW fan. Now, the question is – what would make a great gift for a WoW player?
If your friend is a huge WoW fan, and you, on the other hand, know nothing about the game, the prospect of finding the ideal World of Warcraft gift may seem impossible. However, fear not, as there are tons of WoW merchandise available. In addition, we have created a list of the best World of Warcraft gift ideas that will make your mission a lot easier and truly wow your friend. Nonetheless, knowing which your beloved WoW fan's favorite character is or finding out what faction he or she is a part of, would make things even simpler, as it would allow you to really nail your gift choice and make it more personal.
Something nice
If you are looking for a present that will really blow your beloved WoW fan's mind, you should consider buying a high-quality gaming laptop.
For true WoW fans
Not many WoW gifts enable the receiver to truly immerse in the magical WoW world as much as a WoW Halloween costume does.
Cheap and cheerful
Nobody likes their home smelling like old stale air. Change that with scented candles inspired by World of Warcraft.
Group World of Warcraft gift
Amazon.com
Escape rooms are a fun way to spend free time. Now they can get friends together and create a Warcraft escape room at home. Their team will have an hour to put their heads together to restore order in Karazhan before the tower collapses. This makes a fun party game or something special to do with family on the weekend.
Useful gamer gift
Amazon.com
The problem with computer games is the keyboard. Whereas other gaming systems give the player the freedom to sit back in a chair, couch or bed with a wireless controller, computer game players are stuck hunched over a desk. Change that by giving them a handheld gaming keyboard. They are wireless so they can sit wherever they want.
Dragon themed gifts for WOW fans
Amazon.com
Are you unsure what to get because they already have all the official WOW merchandise? Then get them something related, like this medieval dragon that holds a bottle of wine. To take the gift to the next level give it along with a bottle of their favorite varietal.
Or get them something out of the ordinary to drink their potent potion from, like a dragon wine goblet.
As an additional gift you can give them a dragon themed wine stopper or wine pourer. For a big event you could put all these presents together to create a themed gift basket.
Adult gift for WoW fans
Amazon.com
World of Warcraft fans will love drinking a brew in a special customized beer stein. Get a few so they can share with friends.
Office gifts for WOW lovers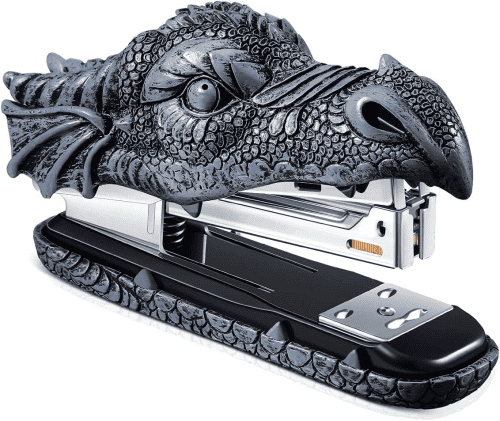 Amazon.com
How about adding some dragon lore to their office. A new dragon themed stapler will be a conversation piece for sure. They will be finding extra things to staple just so they can use this cool stapler!
You can also give them a gothic pencil holder and a dragon head staple remover. Everyone can always use more office supplies. The pencil holder could even be used at home as a toothbrush holder or for other odds and ends.
A mind-blowing gift for a World of Warcraft fan
Amazon.com
If you are looking for a present that will really blow your beloved WoW fan's mind and if budget isn't an issue, you should consider buying him or her a high-quality gaming laptop with an advanced processor, a discrete GPU video card, and at least 8GB of RAM. Nothing will bring a true WoW fanatic nearly as much pleasure as playing his or her favorite game on a quality gaming computer that provides smooth performance, features a fast processor, and offers HD graphics.
If, on the other hand, your friend already has an excellent gaming laptop, you can always opt for some laptop accessories, such as cooling pads, which help keep the laptop from overheating.
Conversation pieces for WOW fans
Amazon.com
Just because World of Warcraft takes place in a medieval setting doesn't mean fans need to act like barbarians. This cool coaster set, made from game discs, will protect furniture from unsightly condensation rings, while providing small talk and envy from friends.
WOW gift for the young at heart
Amazon.com
While pop-up books are traditionally for kids, this work of art is geared towards hardened warriors. Unfold the pages to uncover the faction hub of Stormwind. Discover the war torn land of Teldrassil. But the best part by far is by unfolding all of the pages, they will create a map of Azeroth!
Useful gift for WoW fans
Amazon.com
Have you ever tried to watch TV or play a video game during the day with the sun creating a glare on the screen? It's annoying isn't it? WoW fans will be grateful for these themed blackout curtains to make their viewing experience better during the middle of the day.
A practical gift for WoW players
Google.com
World of Warcraft is a spectacular game. The story, features, graphics, and sound effects all contribute to it being so popular and incredibly immersive. As such, a WoW player must own a pair of excellent gaming headphones. In case the headphones your WoW player friend currently owns don't do the game justice, he or she would surely be over the moon to receive a new pair that provides a crisp sound and blocks out surrounding noises.
Go with a pair of best-selling over-ear headphones for gaming or a pair of wireless noise-canceling gaming headphones.
An entertaining World of Warcraft present
Amazon.com
The Warcraft universe is vast. It features many video games, as well as novels, a movie, and other media based on the games. If your WoW-loving friend has already conquered all the WoW video games, he or she may be interested in exploring other WoW media. Any WoW player would be thrilled to read any of the World of Warcraft books or perhaps even the whole book collection.
Surprise your friend with World of Warcraft: Chronicle Volume 1 or the World Of Warcraft 5 Book Collection Set.
WoW gifts for grown ups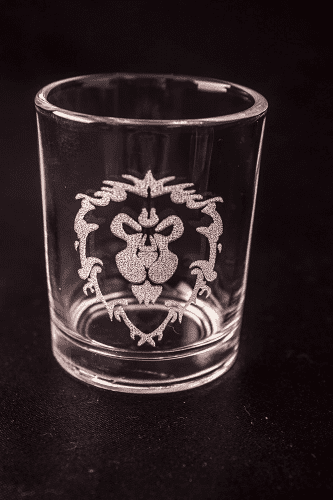 Amazon.com
Help them create a themed home bar by adding some shot glasses with World of Warcraft emblems in addition to their classic wooden beer steins.
Novelty WoW gift
Amazon.com
Pair this character inspired coffee with a World of Warcraft mug for a unique gift. What a pleasurable way to wake up in the morning.
An artistic WoW gift
Amazon.com
What should I buy for a WoW player? Well, if your WoW friend is the kind of person who gets so obsessed with a story, movie, book, or game that he or she finds nothing as exciting that to decorate his or her entire home or room with its memorabilia, merch, and art, then your pal would surely love to get a World of Warcraft wall art. Regardless if it's a poster, a print, a painting, a wall clock, or an LED sign, it will certainly put a huge smile on his/her face.
A die-hard World of Warcraft fan may like a WoW scroll poster or a cool LED sign to decorate his or her home.
Must have WoW gift
Amazon.com
This World of Warcraft memorabilia not only looks cool, but serves a practical purpose as well. They can use it to charge their phone!
A fun World of Warcraft gift idea
Amazon.com
When it comes to World of Warcraft board games, you have several options and each one of those options will make any WoW fan's heart sing. Not only will a World of Warcraft board game enable your friend to rest his or her eyes by looking at a game board instead of a screen for a while, but it will also enable him or her to spend some quality time with loved ones while still de facto playing their favorite game. I consider this a win-win present!
Some of the most popular WoW board game options include Small World of Warcraft and Monopoly: World of Warcraft Collector's Edition.
An exciting gift for a World of Warcraft fan
Amazon.com
This 2016 action fantasy film based on the WoW video games is a movie every World of Warcraft fan would want to watch – probably repeatedly. As such, getting your friend who loves the Warcraft universe and everything that comes from and with it, the Warcraft movie may be a wonderful WoW gift that he or she would be able to enjoy over and over again.
Get the movie in 4K, Blu-Ray, or DVD.
A fun World of Warcraft accessory gift
Amazon.com
When it comes to World of Warcraft accessories, a T-shirt is the first thing that may come to mind. A WoW t-shirt is an excellent way for fanatic World of Warcraft fans to recognize each other from afar and come together to discuss their favorite characters, compelling stories, and the whole epic Warcraft universe.
While buying a t-shirt featuring your buddy's favorite character or faction may be the best option, you certainly can't go wrong with a typical World of Warcraft t-shirt, which makes for an awesome World of Warcraft gift for him or a WoW dad tee for your or any other father.
An addictive World of Warcraft gift
Amazon.com
Considering the fact that the compelling stories from the Legion, Warlords of Draenor, and Battle for Azeroth eras featuring all of the favorite World of Warcraft characters continue and evolve off-screen in the World of Warcraft comics, true WoW fans tend to wait in lines just to find out what happens next. Therefore, a World of Warcraft comic collection may be an incredibly satisfying and almost addictive WoW gift.
Choose the popular World of Warcraft: Comic Collection: Volume One or perhaps World of Warcraft: Curse of the Worgen: Blizzard Legends.
A cute Warcraft Christmas gift
Amazon.com
Socks are a typical Christmas gift – warm, simple, affordable, and useful. But regular white or black socks won't impress a true WoW fan – WoW socks, on the other hand, will! Not only do World of Warcraft socks come with all the pros of any other socks (they will keep your friend's feet warm in the cold winter days, etc.), but they also have the power of making your loved one think of his or her favorite game and pastime activity and thus brightening his or her mood.
This Christmas, impress your pal with comfortable Horde socks, WoW socks with a funny inscription, or a fun pair of novelty gaming socks, all of which are great World of Warcraft gifts for him.
Cool World of Warcraft merchandise
Amazon.com
I am no War of Warcraft fan, but I find WoW action figures really cool. They are stylish, a bit scary, and somehow they convey the strength and superpowers of these fierce characters. As such, I don't find it surprising at all that an average WoW fan would love to have WoW action figures and figurines decorating his or her home.
This is the kind of gift that would be a whole lot better if you knew which your friend's favorite WoW character is. However, you can try with Illidan in his demon form or Lady Sylvanas Windrunner.
A delicious World of Warcraft present
Amazon.com
The amount of World of Warcraft merchandise, World of Warcraft accessories, and World of Warcraft memorabilia available out there is quite staggering. The love for the game among the fans is so big that they even sell official WoW cookbooks. As such a cookbook would allow your fan friend to cook and eat just like his or her favorite WoW characters do, he or she may really appreciate such a WoW present!
Alternatively, you can opt for New Flavors of Azeroth: The Official Cookbook or delight your friend with the official WoW Cookbook gift set.
An awesome WoW gift
Amazon.com
Not many World of Warcraft gifts enable the receiver to truly immerse him or herself in the character and the magical WoW world as much as a WoW Halloween costume does. With a WoW Halloween costume, any World of Warcraft fan would be able to transform into their favorite character. If he or she then attends a WoW-themed party with many WoW characters, he/she is guaranteed to have an unforgettable night!
To really nail this gift, make sure to find out which your friend's all-time favorite WoW character is and shop for the costume accordingly. Choose a King Llane costume for kids or adult men or perhaps a Garona Prestige costume for the ladies.
A decorative WoW gift
Amazon.com
Out of all World of Warcraft decorative gift options, a WoW wall clock may be the best one. Why? Simply because every time your friend will wonder what time it is, the clock will tell him or her that it's 'WoW o'clock'.
Choose a cool black and white vinyl wall clock or one with a dash of color.
Interesting World of Warcraft memorabilia
Amazon.com
Set in the mysterious and magical world of Azeroth, World of Warcraft allows players to explore a sprawling universe and defend an ever-changing world at war. Instead of Earth's modern weapons, the characters in World of Warfare win their battles mainly with swords. To make sure your friend truly feels like he or she is a part of the enticing universe, buy him or her a WoW sword.
There are many swords in the WoW universe, therefore, it shouldn't be difficult to choose a cool WoW sword at all. For example, you can go with Frostmourne Sword or Ashbringer Legendary Sword.
A charming and useful gift for a World of Warcraft fan
Amazon.com
You'd think as there is so much violence in the Warcraft universe that a World of Warcraft player would be stressed out. Well, if you buy him or her a World of Warcraft coloring book that showcases the cool WoW artistry and allows the user to color the intricate images, all of his or her stress will turn into pure fan love and fascination.
Choose a WoW coloring book featuring the images of all his/her favorite characters or one depicting actual game scenes.
A unique World of Warcraft gift
Amazon.com
Only the most popular books, movies, and games make fans want to decorate themselves with media-themed accessories and merchandise. And World of Warcraft surely is popular enough to have that effect on people. In terms of jewelry, a Hearthstone, which is apparently a big deal in the WoW universe, is a popular motif.
Wow your WoW friend with a beautiful Hearthstone necklace or go with Hearthstone earrings instead.
A timeless World of Warcraft present
Amazon.com
A mug is a timeless gift that never seems to go out of style. It may seem an obvious and overused gift choice, however, a mug is actually quite an important item. After all, it is one of the first things we see clearly in the morning after taking the first sip of coffee or tea and it's vital to make sure the first thing we see is something that will put a smile on our faces. A WoW-themed design will surely have that effect on a true WoW fan.
Make sure your buddy always starts off their day well by giving them a cool Horde ceramic coffee mug or a funny 'I Have a life outside World Of Warcraft but I forgot the password' glass.
A simple yet effective WoW gift
Amazon.com
If your goal is to give your Wow fan friend a present that they will be able to carry with them wherever they go and one that will always remind them of their favorite game and spare time activity, simply go with a cool WoW keychain.
Opt for a simple Horde banner keychain or choose a WoW figure keychain.
A nice gift for a WoW player
Amazon.com
In terms of both practicality and aesthetics, a World of Warcraft gaming mousepad is a truly spectacular gift for a WoW player and any enthusiastic WoW fan. A WoW gaming mousepad will perfectly complement your friend's computer table and show what he or she uses the computer for in the first place.
Impress your friend with an extended WoW gaming mousepad or wow him/her with a spectacular WoW mousepad with LED lighting.
WoW gift for puzzle lovers
Amazon.com
Puzzle lovers will enjoy putting together these interlocking pieces to create their own World of Warcraft memorabilia. It will evoke a sense of pride in them, knowing they made this themselves. They will appreciate it if you add a paint set with the gift, so they can customize their work of art.
Useful gift for World of Warcraft fans
Amazon.com
Warcraft fans will feel like they are actually in the game, when they are sitting in a gaming chair with the sound coming from speakers right near their head. These chairs are made with an ergonomic design for back support. Don't be surprised if they are so comfortable they rarely emerge from their room!
Cool World of Warcraft gifts
Amazon.com
Phones have become an accessory nowadays. Jazz up their phone with a new case that reflects their attachment to World of Warcraft. These cases are available for iPhones as well as android.
Cozy Wow gift
Amazon.com
Brrr. When it's cold outside, they will stay warm while wrapped in a World of Warcraft blanket. Fleece blankets are so cozy, don't be surprised if you find them napping!
Construction WoW gifts
Amazon.com
No matter what age they are, they will feel like a kid again when they put together one of these cool building kits. Choose one with over 800 pieces for the older crowd, or sets with less than 50 pieces for younger Warcraft fans.
Old World WoW gift
Amazon.com
Years ago, some of my friends used medieval wax seals on their wedding invitations. The seal gave the envelope a special elegance. In the same way, Warcraft fans can use this seal to take their gift wrapping to a whole new level. Or they can plan a Warcraft event and use the stamp to seal unique invitations.
World of Warcraft gift for him
Amazon.com
Instead of that old torn up wallet he's been carrying around for years, this holiday give him a new wallet from World of Warcraft. Choose one themed with his favorite faction. Which will it be: Horde, or Alliance?
Gift for WoW players
Amazon.com
Computer mics don't always have the best sound quality, especially when trying to coordinate with other players online. Trying to project their voice above the noise of the game adds to the frustration. Give them a gaming mic so other gamers can hear their instructions clearly. You don't want them to let their faction down because nobody can understand them.
Retro World of Warcraft gift
Amazon.com
They will be dreaming up new strategies with this beautiful tapestry of Azeroth hanging on their wall.
Warcraft gifts for the home
Etsy.com
Nobody likes their home smelling like old stale air. Change that with scented candles inspired by World of Warcraft. The creator does an amazing job of pairing scents with the names of the candles, such as Undercity, a candle with a scent profile of firewood, sage, and oak.
The final World of Warcraft gift
Amazon.com
Ok, so now you've chosen their gift. Make it even better by wrapping it in some World of Warcraft themed wrapping paper.