You see them out walking their dog. You wave when you water the lawn. You carpool the kids to school. They are your neighbors. Whether you are best buds or just friendly acquaintances, you want to make a friendly gesture with a gift.
These Christmas gifts for neighbors will be useful no matter who they are. After all, the holidays are a time for sharing, and these gifts are meant to be shared.
Thoughtful Christmas gift ideas for neighbors
Amazon.com
During the holiday season, my kids and I like baking cookies to give out to neighbors. It is a fun way to bond while spreading holiday cheer. Giving cookies on a giving plate will keep paying it forward. Write your name on the back with a permanent marker. Then the recipient can write their name on it next time they give a treat to someone.
If this sounds like fun, I recommend starting your baking early. You can freeze cookies at least a month ahead of time. Then decorate them when it's time to give your gift. You will need holiday cookie cutters, cookie icing, and a book of Christmas cookie recipes. If you have many neighbors you can make cheap neighbor Christmas gifts by forgoing the fancy plate and using some cookie tins from the dollar store instead.
Useful Christmas gifts for neighbors
Amazon.com
During the holiday season people either entertain guests or become guests. That's what makes a meat and cheese basket the perfect gift. Even if they normally stay away from meat and cheese, these make great appetizers to serve to guests. Plus the fat content helps slow down the absorption of alcohol, preventing guests from becoming too tipsy.
Another option is a flavored coffee basket. They can either save it for themselves or share it with guests after dinner.
If you are a guest at a neighbor's during Christmas, bring a dessert gift basket. After all the planning and preparing foods, they may not have enough time for baking. Extra desserts are always appreciated.
Easy neighbor Christmas gifts
Amazon.com
At one point, my family couldn't keep up with the cookie making. Then we found a book to make dessert mixes in a jar. All we had to do was measure and layer the dry ingredients, attach the recipe, and add a ribbon. This makes a great gift for neighbors with kids and grandkids. It gives them a holiday baking project to do together.
In addition to a recipe book, you will need ball jars and holiday ribbon to finish this gift. Many of the books come with recipe tags to add with your gift. I recommend printing copies of the tags so you can use this gift year after year.
Fancy Christmas presents for neighbors
Amazon.com
A bottle of wine and a fancy wine stopper will look elegant but doesn't cost an arm and a leg. If you are giving to several neighbors, you can choose a pack of wine stoppers. Give one along with a bottle of wine to each household.
Wine charms are another useful accompaniment to a bottle of wine. They also make a nice gift on their own.
I bet they will love an electric wine opener. Then they won't have to mess around with the cork while everyone is waiting around to be served.
Funny neighbor Christmas gifts
Etsy.com
Grab a six pack or a four pack and switch out the labels for some funny holiday beer labels.
Another idea is to make a reinbeer. Twist some brown pipe cleaners around the neck of the bottle to create some antlers. Then glue on some googly eyes and a pom pom nose. You have a reinbeer! You can also do this same trick with candy canes for cute Christmas gifts for neighbors. Give them out to the kids or use them as gift toppers.
Neighbor Christmas ornaments
Etsy.com
Show you care by giving your neighbor a personalized ornament from you to them.
If you want an easy DIY ornament get fillable bulbs and stuff them with holiday M&Ms for a tasty treat. They can munch on these while waiting for santa. Another idea is to fill ornaments with hot chocolate mix and a few marshmallows. For grown ups, fill each with a tasty cocktail. Just make sure you get bulbs that seal well for this one!
Inexpensive Christmas gifts for neighbors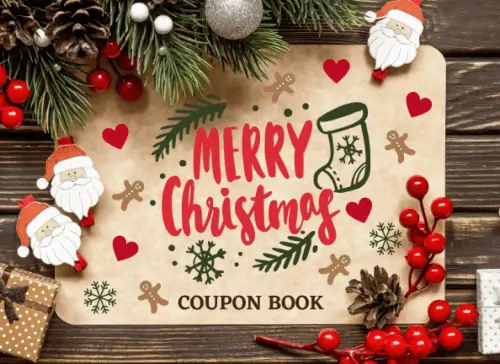 Amazon.com
Do you have an elderly neighbor who needs their lawn mowed? A neighbor who needs someone to walk their dog while they are away? Or maybe someone craves your famous chicken soup when they are ill. The holidays don't have to be about material goods. Give them a coupon for a service instead.
Or you can give them a homemade scratch off coupon. If you are crafty, treat yourself with a diamond painting holiday card kit. Then you can tuck each coupon into a handmade card.