People in the U.S. tend to have a lot of stuff. We tend to be impatient and buy what we need and want at the moment. This makes Americans difficult to shop for. When buying gifts it is a good idea to think outside the box and find something unique that they wouldn't buy for themselves. A good place to start is with hobbies and sports. Do they like martial arts? Are they into swimming? Maybe they spend their free time shooting pool. If you are looking to buy a gift for a billiard player, these gift ideas for pool players should point you in the right direction.
Best gifts for billiards players
Amazon.com
These magic ball racks are very popular right now. They are said to save time and ensure perfect ball placement. They are supposed to also save wear and tear on the table cloth as well.
Get a custom cue claw with bridge. You can select the design, whether or not to have ball inlays, color, and optional text. This will help get the perfect shot. Many players wear gloves for a non-slip grip on the cue, making this an excellent choice for a billiard gift as well. These gloves have the fingertips cut out so the pool player is still able to get the proper feel of the cue without his hands slipping or sticking to it.
Pool related gifts
Etsy.com
A cool chalk holder is a great novelty gift idea for a billiards player. Get one that is a keychain for the player on the go, or get one to look decorative on his pool table at home. These make good stocking stuffers. Make sure to get some chalk too.
For an additional gift, get some pool table and rail brushes and table cleaner to keep the table in top condition. Does the table get used a lot? Then it might need a new spot. Get a tin of 12 spots to keep on hand.
Best gifts for pool players
Amazon.com
Instead of the cheap holder that most players start with, get the pool player in your life a fancier alternative as a billiard gift. Some of these even have rubber pads for beverages so no need for coasters.
If the pool cues are used often, they might need repairs. Get a cue repair kit so he can repair cue tips. Cue chalk cubes make great stocking stuffers.
Personalized pool player gifts
Etsy.com
For the pool lover who has everything, get a customized ball set with his name.
If a whole set is a bit pricey, just have the cue ball engraved. For an anniversary gift, get both of your names in hearts. For a special birthday, get his birth date engraved with a sentiment. You can even have one made with the family crest. For another customizable gift for pool players, get personalized pool cues. You can even gift your special sweetheart a pool cue with engraved hearts for Valentine's Day.
Billiards gifts for him
Amazon.com
Wondering what to get someone who plays pool? Whether your pool player has a pool table or not, this neon sign will look cool hanging on the wall of his mancave. If he doesn't have a mancave, get him a sign to hang on the patio, spare room, den, or bedroom. This is also a great billiard gift for a single guy, because nobody will care where he hangs it. You can even order a customized bar sign with his name.
What hobby is found along with billiards? Darts. Get him a dart board to add to his man cave. Get one that comes in a cabinet and includes darts to start this new hobby. We have one at our house that gets used almost on a daily basis, and you don't need much space. Get him some custom pint glasses for serving beer to his friends when they come over to shoot darts or pool. He can get these with his name, name of his home bar, or with a photo. You could even use a pool table photo to have etched on the glasses.
Unique gifts for pool players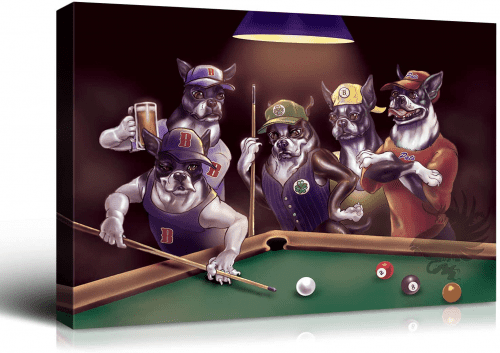 Amazon.com
Get some billiards art for the bachelor pad or man cave. Whether a reproduction of a famous painting or a retro sign, he will like this pool related gift.
Get a billiard themed clock to hang in the man cave as well. Every game room needs some overhead lighting. Get him something decorated in a billiards theme to put above his pool table or just as cool lighting.
Pool related gifts
Amazon.com
As a present for the pool player who doesn't have space in their home for a regulation size table, get a multi game table. These tables take up less space and have options for several games such as foosball, air hockey, ping pong, and pool. Great for the basement, garage, man cave, or den. Teens will love this too. Also, with a cheaper model, you don't have to worry about the kids ruining the felt.
If your pool player doesn't have space for a multi game table, get them a tabletop version of billiards. Another option is a portable pool table that folds up for easy storage. This makes a great gift to set up for an outdoor party.
Unique gifts for billiards players
Amazon.com
What do you get a pool player for Christmas? A unique phone case. A selection of cases for iPhones or Samsung Galaxy are available, making this one of the best gifts for billiards players. No one will mistake his phone. Or get a billiard themed pop socket for better grip.
Speaking of cases, a cue case will prevent his cue from warping and scratching while transporting it. This is a gift for a pool player that you know well because you need to know whether his cue is a 2-piece cue or not, so you get the right case.
Unique gifts for pool players
Amazon.com
Give the bathroom a billiard themed makeover by switching out the shower curtain. You can even add some small pool related wall art. Get brightly colored, or black and white bathroom accessories to continue the pool ball theme.
Get some extra large billiard themed towels for the bath, pool, or beach. Then complete the bathroom decor with a billiard candle holder set. Place tealight candles in this colorful ceramic holder. This is definitely a unique gift for a billiards player.
Funny gifts for pool players
Amazon.com
Silly sayings on t-shirts and mugs are nice novelty gift ideas for pool players.
Or get some silly pool ball mismatched socks. For funny gifts for a female pool player, get her a pair of billiard ball earrings. You can choose the number and color of the balls. I bet nobody she knows has that! Get a billiard themed onesie with a funny saying as a baby gift for a pool player. Now the whole family will be decked out in billiard attire.