Batman has been an iconic figure for nearly a century. I remember watching the Batman TV series as a kid. Then I grew up, and my own kids were into Batman, Spiderman, and other DC superheroes. I even have a Catwoman collector Barbie myself.
I think as adults we enjoy superheroes because they bring back a bit of the kid in us. For kids, superheroes give them a sense of comfort. This selection of Batman gifts caters to both the kid and adult in all of us. Choose some for yourself too. I won't tell!
Best Batman toys
Amazon.com
Legos are fun for kids of all ages. They are a great STEM activity for kids to develop engineering and math skills. The instructions are pictorial making them easy to follow.
My kids always loved Legos and would play with them for hours after building the sets. My youngest got a Lego movie making kit that he used with his Lego sets to create detailed scenarios for months. The kit is for ages 8 and up and gives access to apps for a tablet or phone for movie making. Plus it has an 80 page detailed guide with suggestions. You can get Lego Duplo Batman gifts for the ages 2-4 crowd.
Batman whiskey set
Etsy.com
How great is this? What Batman fan wouldn't want one of these? You can even get many of these whiskey sets customized with the recipient's name for a personalized Batman gift. Make sure to buy some whiskey to go with this.
For the beer drinker, get some Batman pint glasses or a cool wooden beer mug. Pick up some of their favorite beer, and you have a Batman present they will talk about for years.
Ultimate Batman birthday gift
Partycharactersforkids.com
A Batman party isn't complete without Batman himself. Batman will not only show up, but he will do magic, provide games, pose for photos, and more. Batman will even cut the cake for the birthday child!
Batman gifts for the bartender
Amazon.com
Mixologists will love this book whether they are a Batman fan or not. It has step by step instructions for 70 drinks inspired by Gotham City characters. They can further impress guests with appetizer recipes to pair with the drinks. The book itself showcases color photos which would make any coffee table proud.
Cool Batman items for technology
Amazon.com
A phone case is a great way for Batman fans to show off their love for this superhero. Make sure you know their phone model so the case is a proper fit.
You can also get a popsocket for better grip, making talking, texting, and taking photos easier. Use this in conjunction with a popsocket mount for hands free movie watching at home or for using maps in the car. This pack comes with two mounts. Easily attach one mount to a wall or furniture for home use. Then use another one on the dashboard for your car.
Cool Batman gifts
Amazon.com
A wine drinker will love this unique Batman gift for a wine bottle. These stoppers also fit in most liquor and oil bottles as well. No more breaking the old wine cork trying to shove it back in the bottle. This fits perfectly in a Christmas stocking. Or give it as a birthday gift with a bottle of wine.
Give a whole set as a housewarming gift for a Batman lover by including some Batman wine glasses and some wine charms if you are buying stemmed glassware. Depending on which glassware you choose, some allow for personalization.
Batman stuff for little ones
Etsy.com
Dress your baby as a superhero! Get a set with hat and socks, just a single onesie, or one with a tutu as a Batman gift for a little girl.
One of the best Batman gifts for a baby is cloth diapers with the Batman theme. For another Batman accessory get a pacifier clip. You could wrap up the outfit and diapers and top it with the pacifier clip with a pacifier for a really great Batman themed shower gift.
Batman gifts for grownups
Etsy.com
These impressive weapons make a brilliant addition to any collection of Batman memorabilia. While some come in a display case, these are still not for kids. Be careful to make sure they are kept out of reach of the little ones who think they look like cool toys.
Batman stocking stuffer
Amazon.com
Time for a new Airpods case? A Batman themed case fits easily into their Christmas stocking. If their case is fairly new, you can still decorate it with a Batman skin made specifically for Airpods cases. Some even come as a keychain to add as an extra gift attached to a backpack or purse.
Elite luxury Batman gift
Hammacher.com
If they love Batman, they will love BEING Batman in their very own REAL BATMOBILE. Yes, you heard correctly, a REAL BATMOBILE. If money's no object, have the Batmobile built for them from the ground up. It even has a blinking Batphone and a red beacon to alert citizens of a hot pursuit in progress. Can you imagine the envy on the faces of people seeing them riding around town in this?
Batman ornaments
Etsy.com
Get a Batman ornament to decorate the tree. Some ornaments allow for personalization by adding a name. These are great gifts to start off a collection of ornaments for your kids. Buy a new one each year with a different superhero, or get a different Batman ornament each year.
Another option is to get a Hallmark keepsake Batman ornament. My favorite is the Batman guitar ornament.
Batman gifts for adults
Etsy.com
One Batman shot glass makes a great stocking stuffer. But why stop there? Get several to show off at parties. If you get the glasses, a bottle of tequila, some limes, and salt, you can make a Batman gift basket for adults. If there wasn't a party before, there will be now.
If the person you are buying for likes several superheroes, get a set of 4 shot glasses with Dc comic uniforms. Or get a customized shot glass with the recipient's name on it for a personalized Batman gift.
Not a Batman gift for kids
Etsy.com
These cool knives are NOT toys. However, adult Batman fans will be excited to add this to their collection. Most can be engraved so you can add a sentiment or personalize it with their name.
Batman items for everyday use
Amazon.com
Wouldn't it be great to go to sleep at night with your favorite superhero there to protect you? Your child can have this comfort with a cool Batman bedding set. Buy a full set which includes comforter, sheets, and pillow cases. Or you can just get a sheet or comforter separately. This makes a great birthday gift when you transition your child from a crib to a big kid bed.
However, you don't have to wait for your little one to transition to a child's bed for cool Batman bedding. Get a Batman crib set for the tiniest fans. Sets range from basic sheet to a full set with sheet, blanket, bumpers, and more. With this wide variety, you will find something in your price range. As a Christmas gift for Batman lovers buy a cozy blanket with sleeves. I bet mom or dad would love this to cuddle up with on cold winter nights.
Batman gift ideas for kids
Amazon.com
A Batman playset makes a good Christmas Batman gift for a child to find under the tree. Growing up, I didn't have any brothers. However, my best friend who lived next door had one a few years younger than us. We used to agree to play with him so we could play with this really cool He-man and Castle Grayskull that he had. I imagine these Batman playsets would trigger the same desire.
Make sure to get extra figures so they can play for hours creating imaginative scenarios. Plus you want enough to share with friends so there won't be any fighting. And no Batman set is complete without having a Batmobile.
Batman gifts for the collector
Etsy.com
Get some cool wall art for someone who collects Batman stuff. The one in the photo actually glows at night! Another allows for customization where a photo of the recipient is used to make them into Batman. These canvases really combine a touch of class with trendy fun.
For more classic art, get some framed memorabilia or a unique sculpture to display in your home or office.
Batman gift ideas for teens and adults
Amazon.com
Teens and young adults love video games. Make sure you know what system to buy for and check to see which games they already have before buying this exciting Batman gift. If you aren't sure about the video games, you can always get a Batman board game. Honestly, I didn't realize there were so many Batman games, but after reading about them, they all seem like fun. Most of them are made for teens and adults so they are great alternatives to video games.
You can even get a Batman puzzle. Most are between 500 and 1000 pieces. Every summer when my kids were out of school, we would have a jigsaw puzzle set up on our dining room table. Family members and sometimes friends who came over would fill in pieces as they walked by or sat down to eat breakfast. I would usually work on it while watching TV at night. It was a great family activity. You can get one with 31 pieces for the younger crowd.
Practical Batman gift ideas
Amazon.com
Backpacks are a great Batman gift for a boy or a girl. Some even come as a set with a lunch bag and pencil case. For the highschool crowd, choose a sturdy black backpack with the Batman emblem.
For a Batman gift for adults, get a cute purse or a wallet. They even sell compact mirrors with the Batman logo. Being a new mom doesn't mean she can't be fashionable. She would probably love a Batman diaper bag. This bag doesn't even look like a diaper bag. It is a messenger bag with a comfortable adjustable shoulder strap. It comes with a cool DC comic changing pad, bottle holder, burp cloth and multiple pockets to hold all the baby items.
Batman unique gifts for home decor
Amazon.com
What kid, or adult wouldn't want a Batman themed bathroom?
Make a whole Batman gift set by buying a shower curtain. Then get a toilet seat and tank cover and a bath rug to step onto after getting out of the shower.
Batman gifts for coffee drinkers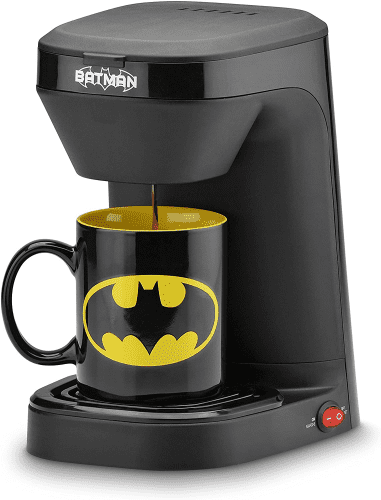 Amazon.com
For the kitchen get this novelty Batman gift. It comes with a mug and the machine makes 12oz. of coffee.
A batman mug is a must for the batman fan. If you don't want to buy the coffee maker, you can still choose from a selection of mugs for coffee, tea, or hot chocolate for the kids. Then get a travel mug to show off at the office or for the kids to take to school. Take it with you when your kids have an early game, and you didn't get to have your morning coffee yet. Don't forget the little fans. Get them Batman sippy cups for school or home so you won't end up with juice all over your floor.
Batman presents for the car
Amazon.com
By getting seat covers as gifts for Batman lovers, they can now take Batman with them wherever they go. Some sets come with covers for the back bench seat, floor mats, or seat belt covers.
For a unique Batman gift get car cup holder lights. These LED lights fit in the cup holders and have 7 colors and 17 different light modes. Change the colors with the touch of a button. These waterproof lights will make the car feel like the Batmobile. For a gift for someone with a newer model car that has a push button start, buy them a silver Batman start button cover. While 4 year olds can't drive a real car, they can pedal a kid size Batman go kart.
Stocking stuffer Batman gifts
Amazon.com
The recipient of this Batman present will never confuse their keys with somebody else's if they have a trendy Batman keychain. This makes a great surprise to find Christmas morning in a stocking.
The Batman fan will be thrilled opening a Batman pendant from their secret Santa. These are great for men or women. Another Batman gift for either a man or woman is a Batman ring. There are many unique designs to choose from. For a stocking stuffer for a girl, get some cute stud earrings.
Batman gifts you can wear
Etsy.com
T-shirts are good Batman gifts for the whole family.
Get themed socks for the feet. Then get Batman pajamas for kids and some lounge pants for dad. You can even buy some sexy superhero panties as a Batman gift for a girlfriend.
Batman gift for cooks
Amazon.com
Who wants to think of dinner after a long day at the office? With a little prior planning, they can have dinner ready when they walk through the door. No more wasting money on take out, night after night.
Batman gift for Skaters
Shop.dc.com
Batman fans will love skating around town on this superhero board. They can replace their old deck with this one, or add a new set of wheels, trucks, and griptape for a whole new board.
Batman gift for your pooch
Amazon.com
Won't Fido look cute sleeping in this Batman bed? Take a photo of him in the bed to use for a holiday card.
Wall decor for Batman lovers
Kohls.com
Imagine waking up in Gotham City? That's how they will feel when they open their eyes and see this wall mural displaying Batman and the city of Gotham.
Cool Batman gift for any age
Amazon.com
Younger kids will be inspired to learn how to tell time with a Batman watch. Older kids and adults will like how the watch makes them feel like a superhero. Don't we all need to feel that way sometimes? If they already have a watch, you can get them a Batman watch band that is compatible with their current watch.
Cool canine Batman gift
Etsy.com
Pet owners will get a kick out of a custom portrait of their fur baby portrayed as their beloved superhero. All you have to do is send a digital photo. The artist will do the rest. Can you think of a better way to combine their two loves?
Batman gift for those with a sweet tooth
Etsy.com
Show your Batman fan how special they are with a bunch of hand painted and hand poured chocolates. These are a cool Valentine's gift at the beginning of a relationship. They show that you took the time to think of a cool gift, while keeping the gift fun instead of serious.
Unusual Batman gift for cooks
Amazon.com
While this signal won't alert Batman to a new crime, it will let him know his dinner is ready. This cool kitchen gadget will project the Bat signal into the air or onto a wall.
Batman gift for kids
Amazon.com
Kids will want to finish their meal so they can see the cool Batman design underneath. This set comes with a bowl too.