Everyone has a musician in their lives, whether they play a string instrument like a violin, a brass instrument such as a trombone, or percussion. Equipment can be expensive, especially when it comes to drums. There are many accessories and different types of drums. It can all get to be a bit overwhelming.
I have tried to simplify the best gifts for drummers to help you find that gift that will leave them speechless. You will find some of the best gadgets for drummers in addition to drum related gifts that are safe bets when you aren't sure what equipment or accessories are right for them. You will probably find a cool gift for yourself too!
Drummer accessories gifts
Amazon.com
These cool gifts for drummers create amazing visual effects when used in the dark. They are great for marching bands and work for either electronic or acoustic drums. Professionals and amateurs alike will enjoy these motion activated sticks. They run on easily replaceable batteries.
For practicing, get silicone practice tips for the ends of the drum sticks. This way the drummer can practice without making too much noise. These make great Christmas gifts for drummers that can be easily slipped into a Christmas stocking. For a new drummer, get a set of drum grips that come with drum mutes. The grips allow beginners to play without getting hand cramps or blisters. They are easily slipped onto the end of the drumsticks.
Fun gift for a drummer
Ticketmaster.com
Tickets to a concert of their favorite band or to a local music festival are drummer gifts that will make them grin from ear to ear.
For drummers playing in their own concerts, get customized decals with the band's name to display on the drum head. Even if they aren't famous yet, you can customize a record to display on their wall. It will have the band name, plus songs.
Most wished for gifts for drummers
Amazon.com
Electric drum pads are great for learning to play and can be rolled up to take with the drummer wherever they go. These are great for kids and adults. Most can be connected to external speakers for others to hear or can be used with headphones so only the drummer can listen.
For use with their favorite apps, get drumsticks made for iPad and Android tablets. Another cool gift for drummers is air drums. These differ from the drumsticks for tablets in that there is no touch. They are usually connected through Bluetooth to a tablet or phone and include additional foot sensors for realistic play.
Drum gifts from Africa
Amazon.com
I like to create art. While oil paints on canvas are my preferred medium, I occasionally like to dabble with acrylics or watercolors. In the same respect, your drummer might enjoy experimenting with another type of drum. These traditional African drums are beautiful pieces of artwork in their own right. These are played with the hands so no need for drumsticks.
Another unusual drum gift from West Africa is the talking drum. These drums offer both low and high pitched warm tones. Most come with a wooden striker to play the instrument with. An alternative is the udo drum from Nigeria. These are traditionally made from clay. However, modern versions are often made from fiberglass. They have two holes that you cover with your hands to play. The sound is changed based on how much of each hole is covered. These were originally water jugs played by women.
Gift ideas for drummers who like to read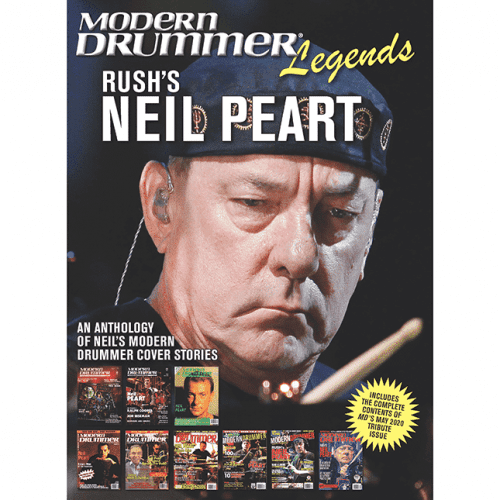 Amazon.com
Every drummer has legends they look up to. Get a book about their favorites so they can learn more about their drum heroes.
You can also find a selection of lesson books for beginning drummers or for those that are working on perfecting their skills. I know many musicians who are self taught. They eventually reach a point when they want some additional training. In that case, some advanced books might be useful. Maybe they like to dabble in writing music as well. A music journal is a creative drummer gift to put their thoughts to music.
Drummer gifts for performing and recording
Amazon.com
A drum mic kit includes several mics to record or project sound from each drum component, causing better sound quality (when compared to one single microphone). This is one of the best gifts for drummers who are planning to record their music themselves.
Headphones are another gift for a drummer planning to record their music. All the loud music can damage hearing, so at times drummers may need a special pair of ear plugs which reduce damaging decibel levels to protect your ears in noisy areas without hurting sound quality.
Personalized drum gift
Etsy.com
If you aren't sure about the specifics regarding what equipment to get, a personalized drum stick case makes a great gift. It is simple, but will be appreciated due to the personalization.
What would make this a super gift for a drummer would be if you found an original drumstick from their favorite band to put in the drum case. In addition to a personalized case, you could also get personalized drumsticks.
Gifts for drummers in a marching band
Sweetwater.com
Drummers need something to hold their drums while marching. There is a wide selection of carriers to choose from. Make sure to get the right carrier for the drum being used.
Marching band members also need something to hold their music while marching. A marching lyre will be a useful gift. A drum key is something all drummers need for tuning their drums whether marching or in the studio.
Unique gifts for drummers
Amazon.com
What do you give a drummer for his birthday? Customize this unique gift by uploading a recording of the drummer's music. It will then be transformed into soundwave art. A scan code will be embedded into the art which can be scanned to listen to the recording any time. You can also personalize this gift further by adding a heartfelt message. This makes a great anniversary gift for a drummer too.
Another special gift for a drummer's birthday or anniversary is a personalized song. You can choose either a 1 minute song or a 3 minute song. Supply memories and stories to have a personal composition created for your drummer. They will receive a PDF with the lyrics and an MP3 audio file. For a creative drummer gift, get a drum kit to make their own Native American drum.
Useful drum gifts
Amazon.com
Drummers spend a lot of time sitting down. With all those hours seated, the padding of their throne is most likely not as comfortable as it once was. Time for a new one. Like computer chairs, these thrones are adjustable so the drummer can set it to the right height. Unlike desk chairs, these thrones have rubber feet to keep them in place while playing.
If your drummer needs more back support, get him a throne with a backrest. For a fun drum gift, get a funky seat cover for the throne. There are so many patterns to choose from such as animal prints, camouflage, or tie-dye.
Gift ideas for drummers to add to their drum set
Amazon.com
Instruments are expensive, so drum equipment makes one of the best gifts for drummers as long as you check with them first to get exactly what they need.
If they already have cymbals, they may like a sizzler, which is a symbol accessory for additional sound effects. Also, as with any instrument, a good cleaner is important to keep equipment in top shape.
Relaxing drum gifts
Amazon.com
Ocean drums are appropriately named, as they create soothing ocean sounds. This is a nice change from the usual drum sound.
Frame drums are of a similar shape but are played with a stick. These are great beginning drum gifts for kids to help learn a sense of rhythm. Tambourines are of a similar size and shape but jingle when hit. Selections are available for professional musicians but also for people who just want to have fun. For a party, get a set of light up novelty tambourines that guests can shake. Or get a child's tambourine for kids that like drumming.
Best gadgets for drummers
Amazon.com
Many musicians post videos of themselves on Youtube. Social media has become a huge marketing arena. However, most people nowadays don't have fancy camera equipment because cell phone photo quality is so good. Therefore, a tripod for a cell phone is a useful gift for a drummer for making videos.
For some background ambiance, get some colorful LED lighting. Add special effects for a more professional looking video with some fog.
What every drummer needs
Amazon.com
A floor mat is a useful drum gift. These help protect floors from the drum set and help protect the drum set when playing outdoors. They also keep the drum set firmly in place while playing. These also reduce noise from friction on hard floors for better quality drum sound.
For playing at home, get a drum pad stand kit. The set includes a stand, snare drum pad, drum sticks, as well as EBOOK "Drumming for Beginners". These allow the drummer to practice accurately while not disturbing the neighbors. If you don't want a whole set you can just get practice pads. These are a good substitute for acoustic drums and come in different sizes. They are portable and can be used on most surfaces.
Drum teacher gifts
Etsy.com
You don't have to worry about your drum teacher having too many of these. Just upload some photos of your teacher so the artist can get started on this unique drum gift.
Christmas ornaments also make great gifts for music teachers. Have it customized with the year and the student's name so the teacher will always have a keepsake of the time teaching that student. If you know someone who is a drum teacher, make getting their students to practice easier. These downloadable music practice charts are a helpful gift for a music teacher. They can be printed for each student every month to set goals and keep track of daily practice times. These can be used by music teachers for any instrument or singing.
Drum gifts for meditation
Amazon.com
The music created by the mallet on a singing bowl reverates deep within the body to help calm troubled thoughts and alleviate stress. Some come with a Mandala necklace or Chakra crystals which are thought to bring harmony, peace, and mindfulness. This instrument is useful during yoga and meditation, as well as for creative thinking.
As a gift for a drummer who is really into meditation, get a singing bowl book to learn in depth how to use this unique instrument. Or you can get a general book on meditation.
Gift ideas for drummers
Amazon.com
What can you gift a drummer? Why not decorate their bathroom? Get a cool drum themed shower curtain to add the drummer's personality.
Then get a drum set bath mat for your drummer to step onto when getting out of the bath. This mat doesn't just have to be for the bath. It could be used as a kitchen mat as well. You can also order some towels with musical notes.
Christmas present ideas for drummers
Etsy.com
Get a cool drum themed necklace to put in a Christmas stocking. There are some great choices for both men and women.
For a personalized gift for a drummer, get a necklace engraved with their band's name. You can choose the chain length and width. This cool gift for a drummer is made from a coin. You can even choose which type of coin you want used. Also choose from a wide selection of drum themed earrings as jewelry gifts for the drummer.
Latin drum gifts
Amazon.com
For a rich Latin American sound, introduce your drummer to the congas. A conga is a tall, single-headed drum from Cuba. The quinto, which is the highest, is the lead drum. The tumba is the lowest. Traditionally, these are used for conga or rumba music where each drummer plays a different drum.
Another Cuban drum is the bongo. These come as a pair and are played with open hands, usually in an 8-stroke pattern called martillo. Used in mambo and chacha, timbales have metal shells and are played with wooden sticks.
Gifts for percussionists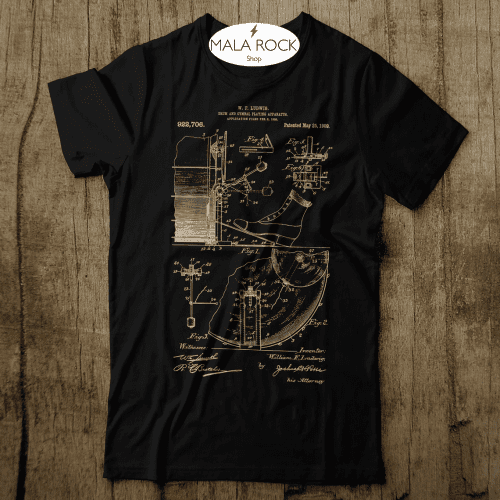 Etsy.com
Wondering what to buy someone who plays drums? Everyone can use a new t-shirt, especially when it shows off their favorite past-time.
For cooler months, get a hoodie displaying artwork as a present for a drummer. Get some silly drum themed socks too. These are also a fun drum teacher gift. Your drum teacher probably has more mugs and drum keychains than they know what to do with. But everyone can use socks.
Gifts for drummers who have everything
Amazon.com
For a gift for the drummer that eats, sleeps, and lives drums, buy bedroom decor. Sets vary to include duvet cover and pillowcase or sheet sets.
For a personalized gift for a drummer's bedroom, get a LED drum set night light customized with the drummer's name. Also get a cool drum set wall clock.