I grew up with the smell of wood shavings around my house and sawdust rising up through the floorboards. My grandpa had a workshop in our basement where he made furniture. He always had a fine layer of dust on him and smelled of fresh wood. I remember the loud electric saw he had and his big band music playing on the record player while he worked.
This list of gifts for woodworkers contains must-have items, plus fun gifts for the hobbyist. No need to choose one or the other. Pick some of each to make your gifts really memorable.
Personalized gift for woodworkers
Etsy.com
Every woodworker needs to leave their mark. Get them a branding iron as a woodshop gift with their logo or shop name.
A unique gift for woodworkers is an exotic wood sample pack. This is a good way for them to try out different wood types. These pieces can also be used in small woodworking projects. For projects on the go, folding saw horses are great when outdoors or on a job. Many of these are sturdy enough to hold over 2000 lbs. when paired with a second one.
Handy gifts for woodworkers
Amazon.com
Woodworkers need a good shop apron to protect their clothes and keep small items on hand in their pockets.
Sturdy work gloves make a useful present for woodworkers to protect their hands from splinters when handling raw wood. Gloves nowadays, even allow for touch screen access. As a woodworking gift for her, get gloves designed for female hands.
Creative woodworking gift ideas
Amazon.com
A woodworker can always use more hand saws for both hard and soft wood. They come in different sizes and shapes which result in different effects.
Does your wife make (or is she planning to make) wood projects to sell on Etsy or at craft shows? A book on running a successful craft business will be a helpful woodworking gift for your wife. Maybe your better half wants to start a new hobby. A whittling kit will be a good woodworking gift for a girlfriend.
Must have woodworking gifts
Amazon.com
This is a great gift for carpenters so they don't lose screws and nails when working. Now their hardware will literally be right on hand.
What can they do when some hardware rolls off the work bench and into a hard to reach place? They need this unique gift for woodworkers. An LED magnetic pickup tool lights up to shine and pick up small metallic items in those tight spots they can't get to. These also make good woodworking gifts for dad or grandpa for Father's Day. Another great gadget for a carpenter is a multi use tool pen. The tip can come out to reveal a screwdriver. It also contains a ruler, level, and stylus.
Woodworking subscription box
Raisingrealmen.com
If you are buying for someone who is thinking of learning a new skill, get a Craftsman subscription box. Choose from 1 month, 3 months, 6 months, or a full year. Each month the box will contain a new project with all of the tools, supplies, and instructions for creating that month's project.
You can even get woodworking subscription boxes for kids. For those who are just looking for the latest tips and ideas, you can give them a subscription to a woodworking magazine. Either online magazines or print versions are available.
Romantic woodworking gifts
Etsy.com
For an anniversary gift for woodworkers, get a plaque engraved with their wedding vows or lyrics to their wedding song.
For a wedding gift for a woodworker they will appreciate this wooden wine box with their initials engraved into the tree bark design. Add 3 bottles of wine to the compartments, one each to drink on their first, third, and fifth anniversaries. Another romantic woodworking gift is a handmade wooden box light. It is carved with hearts and a short personal message of your choice. When the light shines through the carvings, the message and hearts are projected onto a wall.
Carpentry gift ideas
Amazon.com
I remember my dad's measuring tape getting bent out of shape from a lot of use. Even if a carpenter already has one, a measuring tape always makes a good woodworking gift. For the lefthanded carpenter, look for one with the measurements on both sides so they don't have to read them upside down.
This may seem like a silly gift, but carpenters need pencils to mark measurements on the wood. Some carpenter pencils even have a ruler on the side. And some come with a pencil sharpener. However, if they don't you will need to get them a sharpener. Carpenter pencils are an irregular size and don't fit into a sharpener for regular pencils. Also graph paper comes in handy when creating a design.
Woodworking craft kit for adults
Amazon.com
Great woodworking gifts for ages 14 and up, these kits can be used to create marble runs, ferris wheels, film projector and more. My son and I did a much simpler version of a sphinx one time and it was a lot of fun.
For woodworking gifts for seafarers, get model ship kits. My grandfather came from a family of sailors. He would spend evenings creating models of famous ships. He looked at the plans and created all of the pieces himself. This should be much easier now with a kit. For woodworking gifts for kids, you can buy birdhouse kits, paint them, and hang them outside to watch nature unfold.
Useful woodworking gift ideas
Amazon.com
At some point, most carpenters need clamps, whether to hold pieces together while gluing or to hold pieces in place while installing hardware. A set with different sizes is a useful carpentry gift to ensure they will have what they need on hand for any project. As they say, "You can never have enough clamps."
There are also specific clamps for keeping two pieces at 90 degrees to one another. For this they will need corner clamps. Reusable shims are also a much requested gift for woodworkers. These sturdy shims are great for spacing and don't wear out.
Gifts for a new woodshop
Amazon.com
For someone creating a home workshop in their garage, basement, or shed, get them a workbench. Even if they want to custom make their own, they still need one to start out with.
Whether they eventually plan on building their own cabinets or not, they need something to put their tools in now. A tool storage cabinet is a necessary woodshop gift. It will come in handy even if the recipient doesn't realize it at first. People that work with their hands usually have so many projects lined up that they don't get to their own. My husband's cousin has an upholstery shop. He is so busy that it took him years to get around to fixing his leaky roof. He had the skills, just not the time. Hardware storage is also an important gift for a woodshop. My grandfather used to label old vitamin jars with the size of screws and nails he stored in them. You can buy one of these handy storage units for the woodworker instead.
Good gifts for woodworkers' shops
Amazon.com
A minifridge is a useful gift for a woodshop to keep cold beverages, snacks, and lunch so they don't have to waste time and money ordering takeout.
A microwave comes in handy for heating up lunch or dinner if they are working late. This will also be useful in heating up cold coffee. Of course, they will also need a coffee maker. You will have to figure out if they are the kind of person that wants to brew a whole pot at once or make individual cups throughout the day with a Keurig.
Gifts for beginner woodworkers
Amazon.com
For the beginning whittler, a kit with all the tools and wood makes a fun woodworking gift. If they already have wood you can get a carving tool kit for a lesser price.
If they aren't new to whittling and already have tools, you can get them some basswood carving blocks for their future projects. You can also get them a book on whittling for tips and project ideas. We had to carve a design in art class to make a stamp block when I was in school. It wasn't wood carving, but I enjoyed it. Maybe I should get one of these kits for myself!
Cheap gifts for woodworkers
Amazon.com
Growing up, my grandpa had every size and type of nail you could imagine. I think half of them he collected from stuff people were throwing away. He would then sort them, measure them, and place them into nicely labeled containers. We live in a different time so I don't think your carpenter will be collecting free nails from things people tossed to the curb. They will appreciate assorted new nails as a gift for the woodshop.
It's the same with screws and various bolts. The more supplies woodworkers have on hand the less time they waste running out to the store.
Funny gifts for woodworkers
Etsy.com
A carpenter needs comfortable clothes to wear while working. We all know people that wear their favorite t-shirts until they have so many holes that they look like Swiss cheese. T-shirts with goofy sayings are always a welcomed woodworking gift idea.
You can also get a goofy hat. For cooler weather, get them the traditional flannel. My grandpa always wore a flannel over his t-shirt when working in his shop. He would take it off part way through the day when he got too warm. It always had a light layer of sawdust on it.
Good gifts for woodworkers
Amazon.com
Wood glue is also a good gift for a carpenter. There is nothing worse than trying to finish up a project and realizing you are out of glue. Get a big jug so they don't run out.
It seems like a basic gift, but there are several useful accessories a carpenter can use for glue. A glue dispenser helps prevent overuse and spillage. Also, a silicone glue brush set helps the carpenter get just the right amount of glue in small spaces with easy clean up.
Decorative woodworking gift ideas
Amazon.com
I remember in 7th grade woodshop making a jewelry box for my mom and then making wall sconces. Both had decorative cutouts, and there was no way I was getting any sandpaper in there to smooth things out. It is for these situations that every carpenter needs a good set of various size files as a gift for the woodshop.
Assorted wooden dowels always come in handy. My husband just used a small dowel to fix a shelf in a kitchen cabinet. Of course, a woodworker can never have enough sandpaper. Give a selection of assorted grits.
Woodworking gift ideas for the hobbyist
Amazon.com
With a woodburning kit they can use stencils to write sentiments, personalize, or create images on the wood surfaces of items they are making. These wood burning pens can be used for leather too. If they already have a kit, you can get them a book on pyrography for tips and stencil ideas.
For woodworking gifts for kids, get a kit for ages 8 and up that makes 10 projects to trace, burn, and paint. I had a woodburning kit as a kid. I felt like a grown up when I used those tools.
Woodworking gift ideas for larger projects
Amazon.com
No matter how seasoned a carpenter is, there is sure to be a book he doesn't have or that could give him some new ideas for taking on larger projects.
Get a project book to spark their creativity. Maybe they need inspiration for outdoor spaces. Get them a book on creating decks and patios.
Measuring gifts for woodworkers
Amazon.com
Woodworking is easier with a few gadgets. This digital protractor is an electronic woodworking gift that calculates the angle for them.
For measuring where to drill holes for drawer knobs or cabinet hinges, they will need a cabinet hardware jig. Also a handy multi purpose measuring tool has a built in level and has 3 different scale configurations.
Handmade woodworking gifts
Etsy.com
Choose a one of a kind handmade wooden bowl as a unique gift for a woodworker. People who create or work with their hands appreciate good quality handmade items. They understand the amount of time and effort involved.
For an additional handmade woodworking gift choose from a variety of handmade wooden spoons. For the traveler, get a wooden world map to hang on the wall. This is a good 5th anniversary gift which is supposed to be something made from wood.
Safety gifts for carpenters
Amazon.com
Safety is important. Dust particles and fumes can easily be inhaled causing respiratory problems. Stray pieces of wood or hardware can fly into the eye. My uncle Marty has a glass eye because he wasn't wearing goggles. Spend a bit more for a respirator set that contains both.
A push block will protect their hands when feeding wood into machinery. Also, machinery is loud and can damage hearing over time. Headphones with Bluetooth will protect ears from dangerous noise levels while allowing the carpenter to listen to their favorite tunes while at work.
Woodworking Christmas gifts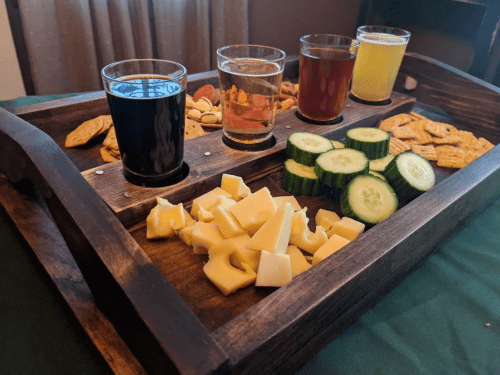 Etsy.com
Choose from a selection of handmade trays. Each is unique based on natural variations in the wood and you can choose whether you want glasses or bowls included. I am definitely getting on for my husband for Christmas!
Another Christmas gift for woodworkers is a personalized whiskey barrel handcrafted by coopers in Virginia. You have your choice of either a 2L or 5L barrel. You also have the option of just the barrel or adding a whiskey or rum making kit. Your woodworker will appreciate this fine craftsmanship customized with their name, but they will also appreciate the new hobby as well. For Christmas decor, get some beautiful handmade wooden Christmas tree ornaments. The set includes 4 handmade tree ornaments made from responsibly sourced oak.
Must have gifts for woodshops
Amazon.com
A wet/dry vacuum is a handy woodshop gift where sawdust and woodchips quickly pile up.
Disinfecting wipes are useful in getting rid of dust and sanitizing surfaces. Additionally, carpenters' hands get dried out and chap easily. A much overlooked gift is a good quality hand cream.