I never understand why people say, "It's too early for Christmas". Christmas is a season of giving, kindness, and love. Can it ever be too early for that? I know some people think that Thanksgiving gets overshadowed by this larger than life holiday. However, wouldn't you agree the two holidays go hand in hand? Since Thanksgiving is about expressing gratitude, the two holidays naturally pair well together. And can you think of a better way to say thanks than with a well thought out gift?
This year don't limit Thanksgiving to just one day, keep showing your appreciation by giving one of these awesome Christmas thank you gifts. There are choices for everyone on your list from family members to that coworker who always greets you with a hello.
Christmas thank you gifts for coffee drinkers
Amazon.com
Gift sets are always a nice way to say thanks. While coffee drinkers usually have their favorite brand and flavor, gift sets are a nice way for them to try something they wouldn't ordinarily buy for themselves.
If they are adamant about only drinking a specific brand, you can still give them a coffee syrup gift set to jazz up their coffee on special occasions.
Nobody enjoys expecting a warming sip and finding the coffee cold. With a coffee warmer for their desk, their cup of joe will stay warm until they get time to drink it.
Christmas thank you gifts for your boss
Amazon.com
They took you under their wing, taught you the ropes, covered for your mistakes when you were new. This Christmas say thanks with a classy humidor.
If gifts at your office are more modest, you can give a few cigars with a cigar cutter or a whiskey cigar glass. These have a space to set the cigar so they don't need to hold it constantly.
Christmas thank you gifts for clients
Amazon.com
Everyone can use some extra treats during the holidays, whether to serve guests or enjoy by themselves. Show your clients you appreciate their business with a gourmet cookie tin. My husband used to bring home a giant tin of cookies every year from work. Our kids would act like they just won the lottery! Nobody can turn down cookies.
For those who prefer something salty, you can give a holiday popcorn tin instead.
Or go with a traditional candy gift box for those with a sweet tooth.
Christmas thank you gifts to spread holiday cheer
Amazon.com
Get creative and mix up a few cocktails in some Christmas bulbs. Of course you just want to add the liquor ingredients. They can add mixers when they indulge in the drink. Until then these lovely gifts can decorate their tree.
My grandmother used to love liquor filled chocolates. This made her easy to shop for. I knew right away what I would get her every holiday season. Who can resist that rich taste of chocolate along with a tasty liquor?
Christmas cocktail glasses can be used for mocktails as well. This way even the kiddies can enjoy holiday libations.
Winter themed Christmas thank you gifts
Amazon.com
What is winter without a friendly snowman? Share some of that winter magic by saying thanks with a sentimental snowman music box.
To add to the winter decor you can get a jolly snowman figurine.
Conjure up images of drinking hot apple cider with a snowman apple cinnamon air freshener.
Christmas thank you gifts to enjoy in cold weather
Amazon.com
Need to grab a thank you gift for someone during the Christmas season? Choose a holiday themed mug and fill it with goodies. Red and green M&Ms or Hershey's kisses in holiday colored wrappers say thanks with sweets. When the candies are gone they can use the mug for sipping their favorite hot beverage.
Hot cocoa mix always makes a thoughtful thank you gift during the holidays. Slip a pack into a holiday mug, or give them a whole gift set on its own. Either way they will appreciate the gesture of a warm beverage. For those with less of a sweet tooth, try a flavored tea sampler.
Scented Christmas gifts to say thank you
Amazon.com
In my book you can never have too many candles. Share the happiness they have brought you by giving them that jolly holiday scent all year through.
Christmas scented wax melts will also warm their hearts with aromas such as gingerbread, cookies, and pine. However, if you decide to go this route make sure to get them a wax melt warmer too if they don't already have one.
Christmas thank you gifts for a hostess
Amazon.com
We all get many invites during the holidays. Visiting others takes the hassle out of having to plan, execute, and clean up. Say thanks for the hard work of your host with a festive holiday tray filled with homemade cookies or appetizers. When the food is gone they can keep the tray to serve tasty dishes next year.
It's ok if you are not much of a chef. Your hostess will always appreciate a bottle of wine trimmed in a Christmas wine bottle cover. Throw in a Christmas wine stopper so the bottle will continue to add to the holiday decor once it has been opened.
Small Christmas thank you gifts 
Amazon.com
A coworker of mine used to attach candy canes to holiday cards to give to each employee. If you need small gifts to give to a large group, scented hand lotions will be appreciated for soothing dried, cracked hands that happen during cold weather.
Holiday lip balm is another useful small gift to heal chapped lips. Plus who doesn't love those holiday flavors?
Or give mini scented hand sanitizers. This is a great way to say thanks while helping prevent the spread of germs that run rampant this time of year.
Christmas gifts to say thank you
Etsy.com
Ornaments are wonderful keepsakes that keep giving year after year, each time they decorate their tree. Remind them how much they mean to you with a keepsake ornament. Some can even be personalized. Then years from now they will still remember your gratitude.
Or you can get a filled Christmas stocking loaded with goodies like self care items or candies. You can even take an empty stocking and load it with items you know they will like.
Teachers especially will love receiving a gift card tree. Parents can demonstrate their appreciation for all the teachers do for their little ones by donating gift cards for restaurants, shopping, and spa treatments. However, these are not only for teachers, they make great gifts for those older kids that are difficult to shop for. Either add gift cards for things they like or money. They will welcome this gift either way.
Personalized Christmas thank you gifts
Amazon.com
The holidays are a great time to say thank you to those you love. This year, have a special keepsake made with a photo. This sentimental thank you gift lets mom or dad know that you appreciate everything they have done for you over the years.
You can also say thanks by keeping them warm at Christmas time with a cozy photo blanket showcasing those cherished memories.
Another way to demonstrate what a star you think they are is by putting their name in lights on their own personalized movie marquee. 
Creative Christmas thank you gifts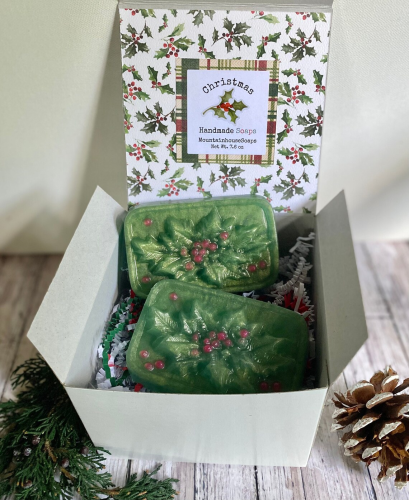 Etsy.com
There is no better gift for saying thank you than something you make yourself. However, for those not so creative, you can always buy a handmade gift. Keep that Christmas feeling going all winter with some scented Christmas soaps.
If you get some Christmas body spray or gingerbread scented lotion they can take that Christmas cheer with them wherever they go.