Your best friend is getting her own place. Your sister just got married and is moving into a new love nest. Or maybe your parents are retiring and moving to the sunny south. Whatever the reason, you need a housewarming gift. But  you don't want an ordinary housewarming gift. These people are special. Your best friend was there for you when you and your boyfriend broke up, for the tenth time. Your sister watched your kids so you could get a weekend away. Your parents supported you through your numerous career changes.
Go the extra mile by customizing a gift. Don't just tell them how much you care. Show them with these one of a kind personalized housewarming gifts.
Unique housewarming gift
Etsy.com
Nothing says one of a kind like a personalized bottle of wine. Choose your favorite vintage. Then add a customized label. Don't be surprised if they don't open the bottle right away. This gift is special. However, they can always recycle the bottle once it's empty by using it for a bud vase or turning it into a bottle lamp. You can even include a lamp kit with this gift.
You can make the gift extra special by adding a wine stopper with their initial and a personalized wine opener.
Personalized housewarming gifts for entertaining
Etsy.com
My new neighbors entertain a lot, now that they have the space. A cutting board with their name, address, or even a photo makes a gift your friends will treasure. They will love it so much, they will want to keep this on display when not in use.
Add some cheese and a tailor-made cheese spreader for them to use at their housewarming party.
Or bring some dessert with an engraved cake server. In addition, these make fabulous anniversary gifts for couples.
Best personalized housewarming gifts
Amazon.com
Commissioned wine glasses will have them feeling like royalty in their new castle.
On the other hand, if they already have plenty of wine glasses, give them a fancy decanter and glassware set instead. Do they prefer ales? Opt for a set of beer glasses with their name or initial. Home bar anyone?
Welcome home custom housewarming gifts
Amazon.com
Make sure the post office can easily find their new dwelling with a made-to-order decal for their mailbox. This is an affordable but useful gift if you want to congratulate them but are on a tight budget.
You can include a house sign with their name and street address along with a personalized welcome mat to add to the front of the house decor.
Useful personalized housewarming gift ideas
Amazon.com
We all know how frustrating it can be to misplace your keys, especially when you are in a hurry. This is even more likely when in a new place where you haven't yet developed a routine. A one of a kind key holder by the front door will certainly prevent this problem.
Often, when people move, they end up buying new furniture. The last thing they want is for their  recent purchases to be ruined by condensation from drinks. A useful but unique gift is a set of photo coasters. You can use photos from the last place they lived so they won't get homesick. Or if they moved far away, give them a set with photos of your memories together.
My favorite gift is a custom beer tap. This will inspire them to build a home bar. Who knows? You may end up spending more time over there than you thought!
Personalized housewarming gifts for couples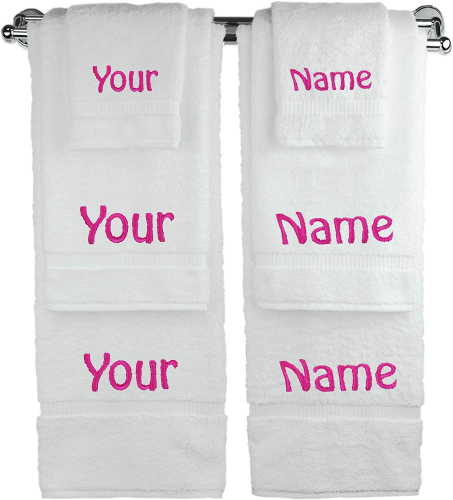 Amazon.com
With a new place they will need new towels. Celebrate their couplehood with a monogrammed set.
Or just get a set of initialed hand towels for use in the kitchen or bathroom.
On the other hand, if they have a home with a pool or moved near the beach, you can give them personalized beach towels. This makes a great family gift as well.
Personalized gifts for new homeowners
Amazon.com
In my family, we have a tradition of giving Christmas ornaments for special occasions. Then each year when we decorate, we tell the stories that go along with each piece of nostalgia as we hang them on the tree. Help them commemorate this special time in their new home with a one of a kind keepsake.
If you want something a bit different, have a Christmas tree skirt embroidered with the family name. You can even have personalized Christmas stockings made for each family member. If they are moving during the holiday season, combine all three gifts for a combo housewarming gift and Christmas present.
Personalized new home gifts for the chef
Etsy.com
While professional chefs have special knives they don't let anyone touch, home chefs often don't get that luxury. You can make them feel appreciated for their cooking skills with new knives engraved with their name.
If baking is their thing, you can give them personalized baking spatulas instead.
Either way, a custom apron will be useful to anyone spending time in the kitchen. It will keep them from wasting time changing dirty clothes and will help prevent stains. Aprons even make great gifts for kids.
Engraved housewarming gifts
Etsy.com
For all those backyard BBQs they will be having, give them an engraved beverage tub. These keep beer and bottles of wine chilled, or make soft drinks easy to grab for the young guests.
If they like to party, they will love a custom bottle opener. Some even hang on the wall and have a box attached to catch the caps!
Personalized BBQ tools will become the pride and joy of every grill master. Plus, these gifts are likely to earn you invites to all their future events.
Artsy one of a kind housewarming gifts
Etsy.com
If you are looking for something unique, have a custom painting made from a photo of their new home. This is a gift you don't have to worry about them having too many of.
If they enjoy wine, they can use the corks to create art. Give them a wine cork holder in the shape of their initial. They can hang it on the wall and add a cork each time they finish a bottle.
Looking for a personalized housewarming gift for couples?  With a hand casting kit they can create a sculpture of their hands entwined in love's embrace to display on the mantle or a prominent shelf.
Personalized housewarming gifts that reflect their new locale
Etsy.com
Have a set of cocktail glasses made with a map and the name of their new town. Then bring them a bottle and propose a toast to their new location.
Hobbyists will enjoy doing a personalized hometown puzzle during their spare time. These aerial map puzzles can be a great way for families to bond in their new place. Plus, puzzles improve critical thinking, keeping those older brains sharp while developing important skills in younger folks.
For a more passive gift, a  city map wall print will help decorate those empty walls.