They went out of their way, not only to show their support, but to help you get a foot in the door along your career path. A simple card won't do. You want to show how much you appreciate the time and effort they took. These thank you gifts for a letter of recommendation are thoughtful, while not being too personal. You want to show your gratitude without crossing professional boundaries.
Sweet thank you gift for a recommendation letter
Amazon.com
Gift baskets are useful and show appreciation without being too personal. There is a wide variety to choose from for those who like sweets. Even people in positions where they are not supposed to accept gifts can share the wealth with others in the office. Cookies are an easy confection to share with a group. These make my mouth water just looking at them!
Cake pops are another tasty gift that can be shared with others.
If they prefer gooey treats, brownies in a gift box are something to drool over. I always enjoyed getting gifts like these because I could take them home to share with my family.
Recommendation letter thank you gifts
Amazon.com
Flowers brighten up a room and won't clutter up shelves indefinitely. A bouquet makes the perfect token of thanks.
For a man you can get a jerky bouquet to say thank you. This gift is unique, showing that you didn't just buy the first thing that came to mind. Plus it doubles as a snack! Then when the jerky is gone, the vase can be used as a beer mug. You can also get bacon scented wrapping paper to use for future manly gifts.
Are they allergic to flowers? Give them a bouquet of chocolate instead.
Letter of recommendation thank you gift
Amazon.com
Candles with a sentiment show your appreciation without being embarrassingly expensive.
If office policy does not allow an open flame, give them an aromatherapy diffuser instead. It will still emit a pleasant scent without violating company rules.
Or give them a scented hand lotion gift set. With everyone loading on the hand sanitizer nowadays, they are sure to appreciate some hydrating lotions.
Thank you gift for professor recommendation
Etsy.com
Show how much you appreciate and admire them with a gift set tailored specifically for mentors.
For someone who loves jewelry, you can give them a mentor thank you necklace or a thank you keychain. Then they will remember how much you appreciate them every time they use them.
Thank you gifts with longevity
Etsy.com
You can show your appreciation long term with a live gift. A gift basket with a succulent and other items that say thanks makes a heartfelt present. Succulents are easy to care for and can be kept on a desk, at home, or outdoors. Plus they don't require a green thumb.
If you don't want to do a whole gift set, a thank you planter will show your thanks. The sentiment on the planter will remind them of your gratitude for years to come.
For something more whimsical, give them a hanging jellyfish plant. These cool planters are upside down! The planter is the jellyfish head. The air plants grow out from underneath to form the "tentacles". They don't take up much space and can easily be hung from the ceiling of their office or home.
Thank you gift for writing a letter of recommendation
Amazon.com
Who doesn't drink coffee? Keep up their momentum with a coffee gift box. Most coffee lovers will enjoy sampling some new flavors they wouldn't normally buy for themselves.
Depending how grateful you are, you may want to add in a nice tumbler for coffee to go.
They don't like coffee, no problem. Give them a tea gift set instead.
Fancy thank you gifts
Amazon.com
Don't worry, this gift won't break the bank. It looks fancy, but many are available at low prices. This way you can show your appreciation with an elegant gift without spending money from a job you haven't even started yet.
Do they like cigars? Give them a cigar gift set which has useful items for cigar aficionados.
You can't go wrong with a bottle of wine. Choose a classy bottle and give it along with a fancy wine stopper. They will remember your appreciation each time they use the stopper, long after that initial bottle of wine is gone.
Inspirational thank you gifts
Amazon.com
Whether they journal or not, giving a personalized gift shows your gratefulness because you took the time to get the gift customized. If they don't already keep a journal, this may inspire them to start.
Or show your thanks with an inspirational plaque for their desk.
If you have an inspirational book that has helped you over the years, return the favor by sharing the secret behind your motivation.
Homemade thank you gifts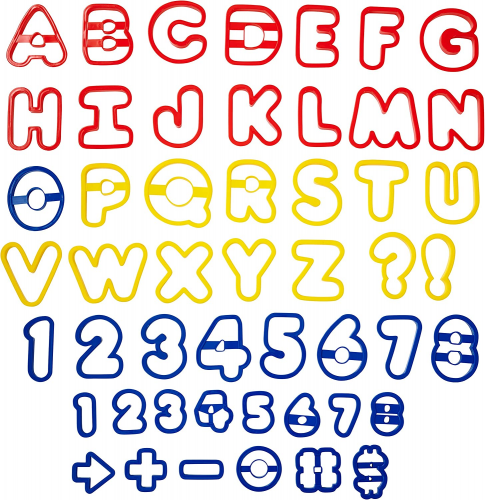 Amazon.com
Want to show your appreciation with a little creativity? Make a batch of cookies that spell out thank you. Then you can use these cookie cutters to make batches of cookies for other occasions as well, like Mother's Day, Easter, or special birthdays. This gift is an investment.
Or bake a cake and top it with a thank you cake topper. This is an excellent idea in an office situation where they may be enticed to share their treats.
For more tasty ideas, get a book with recipes in jars. These are the best! I made these as Christmas gifts one year for teachers and neighbors. You just layer dry ingredients in a mason jar, tie a fancy ribbon, and attach the cooking instructions in the card. These books are another great investment that will provide you with gift ideas for years to come.
More tasty thank you gifts
Etsy.com
Get their favorite candy bar. Then place a printable thank you wrapper on it. While this makes an inexpensive gift, the uniqueness goes a long way.
Or take it a step further by giving them some unusual candy. Boozy gummy bears come in various flavors such as champagne, mojito, and margarita.
What about a gourmet popcorn gift? Gourmet popcorn satisfies those cravings for both sweet and salty. Get a traditional flavor such as caramel corn or something new like cotton candy.  Plus there is enough to share.
Cool thank you gifts to display on their desk
Amazon.com
Remember these cool items? I could just stare at them for hours. These cool items provide a mental break at the office or provide interesting conversation starters. They come in different sizes so you can choose one that fits your budget.
Another fun item to display on their desk is a Newton's cradle pendulum.
Or give them a perpetual motion solar system. These desk items show your thanks while still keeping the relationship professional. They also won't make the person uncomfortable by having to display giant signs of gratitude for themselves in their office.