Finding the best gifts for chess lovers is relatively easy. In fact, finding a suitable gift for anyone who is really passionate and enthusiastic about something (such as a hobby or sport), tends to be rather uncomplicated. The key is to stick to their interests and then find out what people who have that interest generally desire.
When it comes to the best chess gifts, I did my research for you and discovered what it is that chess players really want. All you need to do is to choose one of the best gifts for chess players listed below, give it to your beloved chess fan, and show him or her that you actually pay attention when they talk about their passions and that you truly care.
Something nice
A personalized chess set would make a particularly thoughtful chess gift.
For learning experience
Who better to learn chess from than Garry Kasparov? He is a former World Chess Champion and Russian chess grandmaster.
Cheap and cheerful
It would make a lovely decorative gift, but it would also allow the chess fan to store and support their books.
Cool chess gift for grown ups
Amazon.com
Chess fans will love serving wine or whiskey from this queen decanter into pawn glasses. What a great way to celebrate a win!
Tasty chess gifts
Etsy.com
Yum! Who will be able to resist a chocolate chess set? Those with a sweet tooth can eat the pieces as they get removed from the board! Definitely a gift for the chess lover who has everything. Better yet, you can get the same gift year after year as it won't stick around.
If they are not into chocolate you can still use this food idea and give them a cookie chess set. Or bake your own cake and add chess pieces made of fondant as cupcake toppers.
Chess gifts to last all year
Etsy.com
With a daily calendar, they can sneak some chess into their schedule each day all year. It has daily puzzles to keep the mind sharp along with interesting pieces of chess history. They will amaze their friends with their newfound chess trivia.
More strategy gifts for chess players
Amazon.com
Do they like chess but already have a fancy set, timer, strategy books, and so on? Switch it up and give them a different strategy game like Stratego, Risk, or Clue.
Chess gifts with a twist
Amazon.com
Chinese chess varies from its more popular cousin in that it is played on a different size board made up of 90 points rather than 64 squares. It also contains separate palace regions. If you know a chess player who is bored with the competition, level the playing field. You can learn new rules and strategies together making it a more fair game.
For another twist they can try Shogi, a Japanese version of chess. In this version players have 20 pieces of eight types instead of 16 pieces of 6 types.
A great and useful present for chess players
Chess.com
According to chess fans, players, and experts, chess.com is the best chess app currently available on Android and iOS. It attracts millions of chess players from all around the world, allows the user to easily find opponents that are at his or her level, provides a Tactics Trainer, enables the user to read chess articles, watch instructive videos, and lots more. As the free version of the app only offers limited options, you can buy your chess player friend a Gold, Platinum, or Diamond pro membership. It would certainly make a good gift for chess players, which he or she would love and find very useful.
Alternatively, you can also opt for pro membership of another great chess app, such as Chessable or ChessKid for children.
Chess for the youngest players
Amazon.com
If you want to teach a young child the basics of chess, but they don't appear interested, this will capture their attention. In this version, stories are used to teach basic rules and strategies, making it fun to learn.
Unique chess gift
Amazon.com
This gift can be used in two ways. First, if your chess player is crafty, you can give them this set of molds along with colored epoxy resin to create their own custom chess set. On the other hand, if you are the crafty one, you can make a one of a kind chess set for them..
Unusual Chess Gift
Uncommongoods.com
Do they already have a million fancy chess sets? Well, I bet they don't have this one. This one is attached to the wall. It makes a great novelty gift for a chess fan who doesn't have space to keep their chess set displayed on a table.
Classy gift for chess players
Amazon.com
For refined tastes, give them a classy statue. Choose from knights, queens, or kings to decorate their home with their favorite pastime.
Chess gift for the kitchen
Amazon.com
Presenting the King and Queen of the royal kitchen! They will feel like royalty when guests remark on their unique salt and pepper shakers.
A stylish and meaningful personalized chess gift
Etsy.com
What do you get for someone who likes chess? Well, he or she surely already has a chess set and if they are pro players, they also know much better, which sets suit them best. However, true chess enthusiasts always have room for several chess sets, as such feel free to buy them one. Make sure to opt for a set that is truly unique in one way or another.
A personalized chess set would make a particularly thoughtful chess gift. However, you can also choose a unique rustic set board, or even a fun chess & cheese board.
A nice gift for young chess players
Amazon.com
You don't have to be a chess player to know that chess can be a stressful game, especially for beginners. However, if you play the No Stress Chess the game can be almost entirely stress-free. No Stress Chess is a game made for beginners, as it teaches the players to move their chess pieces through innovative deck cards. Nevertheless, as the beginner learns the basics, he or she can simply flip the board to the standard chessboard side and play the game for real.
The popular Chess Teacher or the Chess Set for Kids and Adults would also make a nice gift for beginner chess players.
Lessons with a grandmaster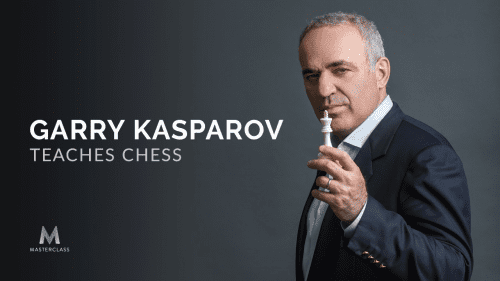 Masterclass.com
Who better to learn chess from than Garry Kasparov? For those who don't play chess, Garry Kasparov is a former World Chess Champion and Russian chess grandmaster. From 1999 through 2013 he held the highest peak rating, until he was surpassed by Magnus Carlsen.
A subscription to Masterclass will not only give them access to lessons with a pro, but they will be able to access all master classes for as long as they have the subscription. They can improve their cooking skills with master chefs, learn creative writing, or even learn how to dance!
A practical Christmas or birthday gift for chess players
Amazon.com
A real chess player needs a professional chess clock. It is a must-have accessory for all chess players, both beginners, and absolute pros. If you decide to give your favorite chess fan one of those devices, make sure to choose a portable, lightweight, and reliable one with multiple functions that will help improve your friend's chess skills.
For example, you can choose a popular digital chess timer with an alarm function or a stylish analog chess clock instead.
A fun game for chess lovers
Amazon.com
Traditionally, chess is a 2-player game. However, if your chess-loving friend has already mastered the original version, he or she might be interested in trying out the 4-player chess. The rules, goals, and strategies are a bit different, yet simple to understand for any experienced chess player. If beating a single person in chess is not challenging anymore, your friend may be open to the idea of playing against 2 or even 3 other players at a time. Besides, you know what they say – the more, the merrier.
Choose a best-selling 4-player chess set or a game of 3-man chess instead.
Chess gifts for little ones
Amazon.com
Little chess players will enjoy cuddling with this plush king and queen. Or get them for adults to use as throw pillows on their sofa.
A useful chess present for a competitive player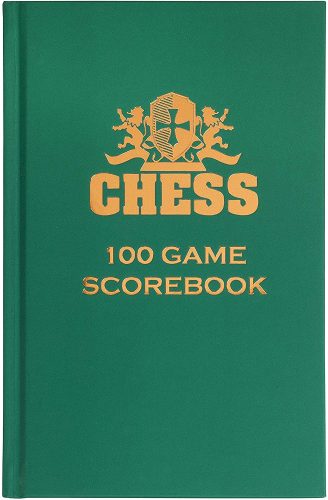 Amazon.com
Each competitive chess player who plays in tournaments could use a chess scorebook. A scorebook allows the player to write down up to 100 of their moves and can be used for at least 50 and up to 100 or even 200 games.
Choose a simple spiral scorebook for 50 games with 120 moves a game, a fancy hardcover scorebook for 100 games, or a scorebook for up to 200 games.
An educational present for chess lovers
Amazon.com
In order to truly master the game of chess, a player must learn all there is to know about the tactics, strategies, openings, and concepts. As such, a great book that will teach your favorite chess enthusiast all there is to know about this game would make a wonderful educational present for chess lovers and players – one that your friend will surely appreciate a lot.
Choose Chess: The Ultimate Chess Tactics and Strategies, the best-selling Bobby Fischer Teaches Chess, or FCO: Fundamental Chess Openings.
A cool pop culture chess set
Amazon.com
If your friend is both a chess lover and a major pop culture fan, he or she would surely love an exciting pop culture chess set. Lord of the Rings fans, for example, would go crazy for the cool Lord of the Rings Battle for Middle Earth chess set, which features Galadriel, Aragorn, Frodo, and Gandalf the Grey on one side and epic villains, such as Gollum, the Nazgûl, Saruman, and the Dark Lord Sauron on the other.
Depending on which movie your friend likes the best, you can also choose a Harry Potter wizard chess set, a Jurassic Park chess set, or perhaps The Batman – The Dark Knight vs. The Joker chess set.
The best chess gift for kids
Amazon.com
Children, especially boys from 3 to 15 (or 20, or even 90) years old are obsessed with Lego building blocks. If your child is one of them and if he also likes chess, a Lego chess set would make a perfect chess gift for him (or her). This 2 in 1 game will allow them to first build their own chess set and then use the included chess pieces to actually play the game of chess.
You can also choose a Lego Pirates chess set, which is suitable for slightly younger children, or a Lego Kingdoms chess set.
A decorative gift for chess fans
Amazon.com
Do you know what would make a great gift for chess lovers? Chess bookends! Not only would it make a lovely decorative gift, but it would also allow the chess fan to store and support their books about chess on their shelves and display them proudly.
Bring a huge smile to your chess-loving friend's face with large black resin bookends or a wizard chess knight bookend.
A nice or funny chess gift
Amazon.com
While some hobbies and interests sometimes seem embarrassing, playing chess is one of those passions and obsessions people are really proud of. After all, many great chess players are very smart and reputable people. As such, your average chess player tends to showcase his or her interest proudly. And the simplest way to show off your passions is by wearing the right kind of t-shirt.
Your chess-loving friend may love a retro vintage chess t-shirt, a funny chess evolution t-shirt, a 'Choose Your Weapon' tee, or the motivational 'I Never Lose' t-shirt.
A lovely Christmas gift for chess lovers
Amazon.com
What do you get for a chess player for Christmas? Chess socks, of course! They come in all possible shapes and colors and they display the love the person who is wearing them has for the old and popular board game. Moreover, if your friend will wear them at a tournament, chess-themed socks may just bring him or her the bit of extra luck that he or she needs.
Choose the comfortable Good Luck chess socks or a funny pair of chess socks.
A cute chess gift for him
Amazon.com
If you are looking for nice chess gifts for your boyfriend, husband, father, brother, or male friend, you can always go with a cute and funny chess necktie. Because even the biggest chess fans have to dress up every once in a while and when they do, they still may wish to communicate to the world that they are crazy about chess.
They can do so with a modern multicolor chess tie, a sleek black and white necktie that shows a chessboard and pieces, or with a more subtle necktie with tiny chess pieces.
A good inexpensive gift for chess players
Etsy.com
Lastly, a personalized chess keychain would also make a lovely present for chess lovers. This personalized chess gift is inexpensive, meaningful, and can serve as a good luck charm at tournaments. As the receiver will probably touch and see this simple item a lot, they will inevitably think of their thoughtful friend who did his or her best to find the most meaningful and suitable gift for this eternal chess lover.
Choose the cool queen, knight, or pawn chess piece keychain and personalize it with the receiver's initials. Choosing a pair of king and queen pieces with initials, on the other hand, would make a lovely anniversary present.
Chess gifts for wine lovers
Amazon.com
Surprise! This chess set is more than just a game. When they open the box they will find a wine opener, bottle topper, plus even more useful wine accessories.
If they already have a collection of unique chess sets, you can still give wine lovers a cool chess themed present. A set of wine stoppers, along with a bottle of their favorite wine. will whet their appetite.
Chess gift for Star Trek fans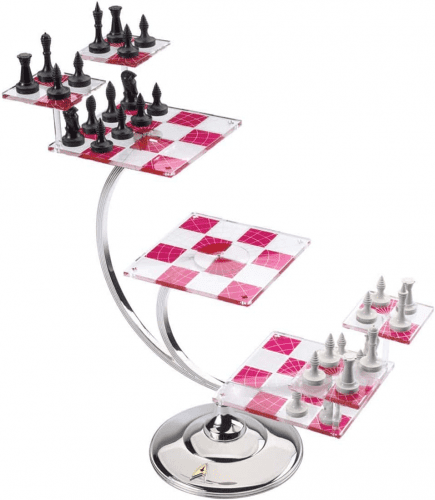 Amazon.com
This is a must for classic Star Trek fanatics. Now they just need some Spock ears and some Romulan Ale and it's time to Beam me up Scotty.
Chess gift for alone time
Amazon.com
This game comes with tons of challenges. They can practice their skills even when they don't have a partner to play against.
Elegant chess gift
Amazon.com
Why hide the chess board in the closet? Give them one to use as a table so it can be displayed all of the time. Then when they want to play, they just take the pieces out of the drawer. No more digging around cluttered shelves trying to find the board, hoping nothing topples down on their head!
Fun chess gifts for sweet tooths
Etsy.com
Looking for a cool gift on a budget? Make a batch of sugar cookies in the shape of chessmen with these unique cookie cutters. Switch up the recipe at Christmas to make gingerbread chessmen.
If baking is not your thing, you can still give into their sweet tooth with a bag of Chessmen butter cookies. Pair these with some gourmet coffee and you've got yourself a gift basket.
Chess gift for the bath
Amazon.com
Are they obsessed with chess? Carry their obsession to every room in the house. You can even decorate the bathroom with one of these artsy shower curtains.
Summer chess gift
Target.com
It's hot, but lounging in the pool all day can get boring. Get them a floating waterproof chess set. Then they can stimulate their minds while warding off the heat.
Chess gift for the bedroom
Amazon.com
Send them off to dreamland with chess themed bedding. Then they can dream they've got their opponent in check or work out new strategies in their sleep. They might even dream they are playing life size chess like in Harry Potter or Alice in Wonderland.
Lifesize chess gifts
Amazon.com
Better yet, they can actually play life size chess with one of these giant sets for the yard. They will definitely feel like they stepped through the looking glass when they see this set up.
Whimsical chess gift
Amazon.com
Off with her head! They can't help feeling they stumbled down a rabbit hole into Wonderland while playing chess with this set. This one definitely needs to stay on display.