Kids, this is the story about how I met your mother. No wait! That is how the show begins. This is where to find cool How I Met Your Mother gifts. I watched the show when it was on network TV. But I have to admit I really enjoyed rewatching all of the episodes again to come up with – wait for it – legendary How I Met Your Mother gifts. As I searched high and low for gifts related to the show, I became disappointed. To be honest, there weren't that many out there. You might have already tried searching and had the same problem. So I said, "Challenge accepted". Instead of the typical mug or ornament, I came up with some themed ideas based on the episodes. Any big fan of HIMYM will think you are legendary after receiving these gifts.
How I Met Your Mother gift ideas bucket list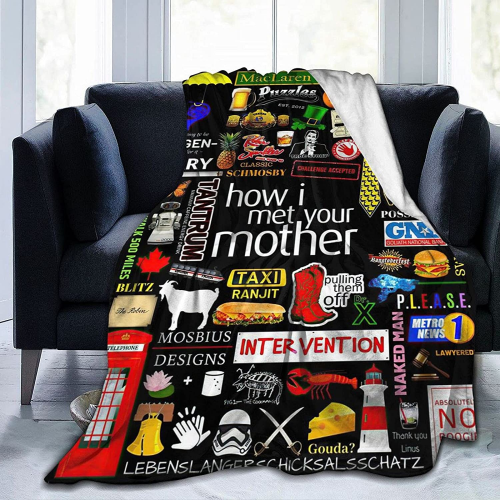 Amazon.com
This will be a unique gift that keeps on giving. Start with the blanket. Then use it as a bucket list of gifts. Each gift giving occasion you can get another symbolic item pictured on the blanket as a gift. Of course the recipient is free to buy items displayed on the blanket as well.
You can get them some real swords to hang on their wall like Marshal and Ted used to fight for their apartment.
Or you can get them a pineapple like Ted found on his nightstand after Barney talked him into doing all 5 shots at Maclaren's Pub. Of course, you don't have to get them a real pineapple. You can get a cool pineapple glass table lamp instead.
HIMYM gifts for fans of Barney
Amazon.com
Nothing says Barnie like laser tag. Some sets come with the full vest or you can buy the guns separately.
For fans who already have their own gear, take them to the next level with a 9 piece obstacle set or a 4 piece set of obstacles.
Himym gifts they might encounter on a night out with the cast
Tripadvisor.com
Barney is always coming up with crazy things to do on a night out. During the first season, he and Ted follow some girls by taking a plane to Philadelphia. When that doesn't pan out, one thing leads to another, and yes kids, they lick the liberty bell! While I don't recommend they do that as part of your gift, they can go on a tour and see it in person.
Remember Barney's PlayBook with the play called the Empire State Building? He goes to the top of the iconic building like in Sleepless in Seattle. Then he goes up to women who are by themselves and says sadly, "He's not coming". When he finds one that breaks down crying, he swoops in to comfort her. I'm not saying they should try this devious plot, but they may enjoy creating a replica with an Empire State Building model kit as a souvenir of this episode.
If they are sports fans, they will enjoy a night out at a hockey game like Robin, her being Canadian and all. It's ok if they don't like the same team as Robin, get them NHL tickets for their favorite.
HIMYM gifts for Ted and Marshall's road trips
Amazon.com
When Ted feels left out after Marshall and Lily get married, he and Marshall try to revive their college days with a road trip. Their college road trips consisted of surviving on beef jerky and Tantrum. To reminisce about old times, give a HIMYM fan a jerky gift basket. They'll get the message.
While I don't think Tantrum actually exists, or at least didn't survive into this decade, you can still fuel your friends with a selection of other energy drinks.
The best part of the road trip – playing 500 Miles over and over and over again. Give this song along with a collection of music on a Proclaimers MP3. Then they only have to repeat the song when wanted.
Barney Stinson gift
Amazon.com
Who doesn't like adorable yellow ducks? They can dress to impress like Barney with this whimsical tie.
Then suit up. It's time to play wingman. Get him a stylish suit to look his best. Did you know that Barney even wears suit pajamas to bed?
Don't forget Barney's legendary books such as The Bro Code or his infamous playbook. Then they can learn all his secrets for getting women.
HIMYM gifts for romantics
Amazon.com
This gift would be a hit with any of the HIMYM characters, but it also plays on Lily's nickname for Marshall. This will be a highlight of their next BBQ.
Lily fans will love this exciting gift based on Marshall's nickname for her. A floating lilypad for the water, big enough to enjoy with friends. It almost seems like something Barney would come up with.
An orange pumpkin costume brings out the hopeless romantic in all of us. No fan can forget, year after year, how Ted waited on the roof on Halloween hoping to see the girl in the orange pumpkin costume again.
How I Met Your Mother Gifts for Friends
Amazon.com
For a fun night with friends they can create their own trivia game with trivia books about Himym.
If they realize they need to brush up on their knowledge of the show, get the series on DVD or Prime Video.
Better yet, they can turn watching the show into a drinking game by having each person drink when Barney says legendary, suit up, or challenge accepted. Of course they will need some personalized beer mugs. However, instead of having their name engraved, have Maclaren's Pub etched on the mugs instead, so they really feel part of the show. Or have them say Puzzles like the time Barney and Ted took over the bar for the night.
HIMYM gifts from Canada
Amazon.com
Fans of Robin Sherbotsky might like gifts from her native land, Canada. We all know her favorite team is the Vancouver Canucks. Why not get an official team jersey as a gift? Just don't mention that hockey isn't the #1 sport in the U.S!
Or give some Tim Horton's Coffee for a Canadian cup of Joe. Did you know there is actually a Tim Horton's Coffee Shop near the stadium in Toronto, just like the one Barney and Robin visited when Barney went to bring Robin back to the U.S. for her citizenship test. Barney gets beat up at the coffee shop after putting down Canadians for giving up Robin to America.
You can also get a beaver plush just like Robin and her friend Glitter have while singing The Beaver Song. After all, according to Robin, the beaver is Canada's national mascot.
HIMYM gifts for "the one"
Amazon.com
If you think you've found "the one", create a tasty dinner for two using recipes inspired by HIMYM.
Set the mood with some wine served in extra large wine glasses, like they use in the series. Then add some candles for ambiance.
If you want to go all out, get a romantic dinner set, complete with ice bucket, dinnerware, and candles.
Unique Himym gifts
Amazon.com
Quiz time. Which character has a belt buckle that doubles as a bottle opener? Hint: He's really tall.
Or get them a custom championship belt when they win the bro contest, like the one Barney had made.
As with Marshall and Lily, some couples choose to have kids. Get those couples onesies with HIMYM phrases on them.
Best How I Met Your Mother presents
Etsy.com
For those who love collecting memorabilia, what can be a better gift than a copy of an original signed script? They will be the envy of all their friends.
Or maybe they want to hang up a HIMYM poster for some wall art.
You can even get the music from the show on MP3.
Star Wars: because bros like it
Orientaltrading.com
Get a life size stormtrooper cut out for their apartment like Barney has.
Or get an R2 Sweet Tooth cookie jar like Marshall and Lily.
As a test to see if she is the one, give him the Star Wars Complete Box Set for a movie marathon. He can test her by seeing if she is a fan or falls asleep.
How I Met Your Mother presents
Amazon.com
Remember Ted's yellow umbrella? You can get them a yellow umbrella like Ted's. Who knows? It might open up endless possibilities for them as well.
Or get him some red cowboy boots so he can emulate Ted.
Remember the episode of The Naked Man? After learning about this ploy from one of Robin's dates, Ted and Barney decide to try it. They can't decide what pose to take, but one of the options was the thinker. You will get a big laugh from the diehard fan when they open this replica statue.
How I Met Your Mother gift ideas
Etsy.com
Reminiscent of Ted's first date with Robin, where he steals the blue French horn to profess his love for her, this replica art will be legendary with all fans of the show.
As a Valentine's Day gift for her, you can get the symbolic French horn on a necklace. For a romantic gift for him, get a blue French horn keychain.
Robin Sparkles Himym gifts
Etsy.com
They can go retro with an '80s denim jacket and hang out at the mall, like Robin Sparkles sings about as a Canadian teen pop star.
Get her some jelly bracelets and she will be halfway to a unique halloween costume. For the full effect, give her an 80s accessory set.