Dental health is about more than white teeth and a straight smile. That plaque doesn't just cause cavities and gum disease, it seeps through our gums causing damage to our heart and other organs. You may think that you don't need a cleaning because you do a good job taking care of your teeth at home. However, you might not realize that the hygienist does more than clean your teeth. They are polishing them as well. Why? It isn't to make them shiny. Polished teeth make it harder for plaque to adhere to. So don't be one of those people who avoids going to the dentist until it is too late.
While you are there, why don't you show your appreciation for the dental staff with one of these gifts for dentists. If you know a dentist, you probably hear tales of deadly breath, the kid that bites, and other horror stories. These guys work hard to keep us healthy. Get them something to make them laugh. In addition to practical gifts, I have also found many gifts that should bring laughter or at least a smile to their lives.
Gift ideas for dentists
Amazon.com
After a long day of dealing with stinky breath and difficult patients, these funny wine glasses will help them relax with the best medicine, humor, (and wine of course!)
Add some dental themed wine glass charms and a bottle of wine and you have a #1 gift that will cure even the worst case of dry mouth.
If you opt for one of the sets that comes with a coffee mug and a wine glass, you can give them a coffee gift basket to go with it. These special coffees will make the gift a real treat.
Unique gifts for dentists
Etsy.com
Everyone can benefit from a car air freshener. Wouldn't it be fun to get someone in the dental profession some that are shaped like teeth?
A dental candle makes a good dentist appreciation gift because it is unique, and many people enjoy scented candles to help them relax or freshen up their home. These have funny dental sayings so your gift will make them smile even after the most difficult patient.
An unusual gift for someone with a sweet tooth is chocolate teeth. If they love chocolate, this will provide a sweet snack with a note of humor as a pick me up mid day. Just remind them to brush afterwards, because they can't fill their own cavities!
Gifts for female dentists
Etsy.com
Jewelry fits perfectly into a Christmas stocking. Small studs won't get in the way at work. Dangling earrings will be fun to wear to a dental convention or for displaying some dental humor on days off.
If you really want to make an impact on your dentist with your gift, an unusual, and a bit creepy, tooth necklace will make her jaw drop.
If you don't think she will appreciate a bizarre tooth necklace, get her a more classy dentist bracelet to wear her profession on her sleeve.
Cool dentist gifts
Etsy.com
This is a great retirement gift along with a bottle of whiskey. Some can be personalized by engraving the dentist's name. This gift is sure to whet their palate. You can even add in teeth shaped ice cube molds for those who don't like it served neat.
Funny shot glasses will never fail to start conversations with friends or coworkers with their quirky sayings. You can even give them tooth shaped glasses!
If your dentist prefers beer, give them a dental-themed pint glass. Many of these can also be personalized, making them special keepsakes.
Novelty presents for dentists
Amazon.com
What do you gift a dentist? By getting a novelty gift you will be getting something that they most likely don't already have. Try one of these unique watch bands. You just need to know what device they have so you get a compatible band.
If you aren't sure what kind of watch they have, you can get them tooth planters instead. Don't worry about whether they have a green thumb or not. Plant some succulents, which need virtually no care. Or you can give them an empty tooth shaped planter to use as a toothbrush holder or as a container for pens in the office.
A tooth 3D night light will help them find their way around the home in the dark, or provide mood lighting with its colorful settings.
Personalized dentist gifts
Etsy.com
Looking for a unique but more personal gift? Try a custom dental portrait. They can hang this amusing gift either at home or at the office. All you have to do is upload a photo of them.
If you don't have a photo, custom wall art will also make a special gift for them to hang on the wall.
If you are looking for more of a practical custom gift, a personalized tumbler will keep them hydrated during their work day, or caffeinated, depending on what beverage they put in it.
Best gifts for dentists to munch on
Amazon.com
An apple a day keeps the doctor away, or dentist. Everyone needs a snack to refuel at some point. However, you don't want to give them something that is going to rot their teeth. After all, they are dentists. Give them some healthy fruit instead, preferably fresh.
For a heartier snack, give them a charcuterie basket with meats and cheeses to build up calcium for strong teeth and bones.
Or you can get them a healthy snacks gift box with salty snacks.
Gifts for dentists' homes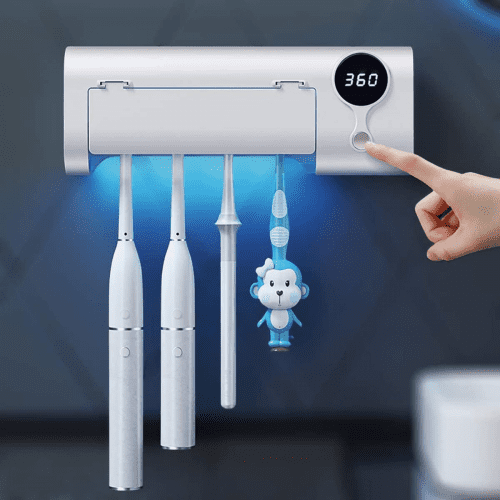 Amazon.com
Yuck! That cup of toothbrushes in the bathroom can be a haven for germs. However, a toothbrush sanitizer will disinfect the family toothbrushes while freeing up counter space. You can give them a travel sanitizer as well. We always throw our toothbrushes out after traveling. They sit for hours in a stagnant moist case during the trip back home, just breeding bacteria. A travel case will save toothbrushes while preventing nasty germs.
Another bathroom item is a dental themed shower curtain. This is something you definitely don't see every day.
You can even get them a dental clock. Some larger choices can be displayed like artwork on the living room wall. Smaller clocks can fit nicely in a kitchen or bedroom.
Dental Hygienist Gifts
Amazon.com
These lunch bags are both practical and whimsical. They can save money by packing their lunch, while sporting some quirky dentist merchandise.
Or get a hygienist makeup bag with amusing dental sayings. These are great for carrying travel size toothpaste and a toothbrush so they can take care of their own dental hygiene after lunch.
You don't want spit or other mouth gunk flying in their eyes while cleaning patients' teeth. A dental hygienist will need some trendy eye protection to keep out the germs.
Gifts for dental students
Amazon.com
These tumblers can help them study while sipping on a beverage, whether coffee in the morning or for a water break later in the day.
A teeth model will be great for them to use in their future practice, to show patients proper dental care or to explain problematic areas of their mouths.
For all those late nights, give them a tooth stress ball to relieve tension while studying for exams.
Funny gifts for dentists
Amazon.com
These are practical for writing on charts, but at the same time, provide an amusing conversation piece around the office.
They can keep their patients at ease with humor by learning some quips from a dentist joke book.
Many adults find coloring books helpful in relieving stress. Choose funny dental coloring books for adults, to take the edge off.
Dentist gifts for the office
Amazon.com
These make great gifts for dental staff to use in the office. Single serve coffee brewers have less waste and easier cleanup than full pots. Staff can choose the flavor they want and the coffee will always be fresh.
Sometimes a patient might take longer than planned, or they have to squeeze in an emergency patient, cutting into their lunch break. A microwave makes it easy to heat up food from home plus save money by not ordering takeout.
If they don't already have a refrigerator, a mini fridge works great at small dental offices so staff can store a few perishable items.
Dentist gifts for pediatric dentists
Amazon.com
Pediatric dentists need to keep little folks busy while waiting their turn. Toy dental kits and books about teeth will not only keep kids busy, but will help them be comfortable with their dental check up.
Also, bulk tooth necklaces for lost teeth are cute gifts to send home with patients when they are at the age to receive a visit from the tooth fairy.
Dental Assistant gifts
Amazon.com
A themed tote will be great for carrying personal items back and forth to work.
You can also give them a dental badge reel which is small enough to slip into a Christmas stocking.
For a gift for the home, give them a cozy dental assistant blanket to chill under on days off.
Accessory dentist gifts
Amazon.com
How about some accessories? They can always use more socks. With these, they will get a good laugh too.
For him, give a tooth themed tie, along with a tie clip. You can add some cufflinks that look like teeth or dental tools.
To keep her hair out of her face and her patient's, give her some tooth themed hair scrunchies.