We tend to think of professors as intimidating figures who possess a lot of knowledge, have a terrifying authoritarian stare, and can either make your life bearable or miserable with a simple evaluation. But really, they are just people whose calling it is to pass down knowledge to their students (and sometimes even family members and friends). They do a great service to this world and as such, they should be properly rewarded with the best gifts for professors.
Finding a good gift for professors may seem daunting. After all, they are accustomed to evaluate things rigorously! However, if you think about his or her interests, things get a lot easier. Anyway, we've got you covered! Regardless of whether you are searching for a nice thank you gift for a professor of yours or if the professor you are buying for is a friend or family member, we came up with a list of amazing gift ideas for professors – unique and thoughtful presents that will surely get you an A!
The ultimate relaxing group gift for professors
Professors spend most of their time reading books, imparting knowledge, evaluating tests with hopelessly wrong answers, and trying to control hormonal kids and teens. If you think about it, it's a really tough job! When all is said and done, the hard-working professor really deserves a proper break! Treating your favorite professor to a vacation, which he or she truly needs, is probably the kindest and most thoughtful thing you can do for him or her and it would make a wonderful gift for college professors and teachers alike – one you could buy as a class where everyone would chip in.
Your beloved professor may love a trip through the Wild West, a trip to Hawaii, or a relaxing journey through Florida.
A educational or funny gift for professors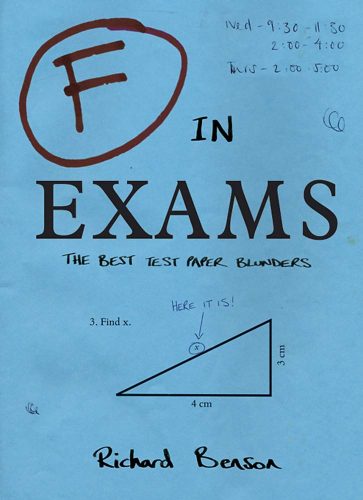 Professors are the kind of people who value knowledge above all else and know all too well how important it is to always keep on learning. As such, most professors may find a book to be the perfect gift for virtually any person and any occasion. Depending on what the book is about, it would make a great birthday or Christmas gift for a professor, as well as a wonderful thank you or retirement gift for a professor.
'The Classroom Management Secret' would be a useful gift for a new professor, while 'F in Exams' makes for a hilarious book that would make every professor cry with laughter.
A practical present for professors
Professors rely on their voices to pass on knowledge but talking for hours on end takes a toll on their vocal cords and throat. I remember how many times my professors came to class with hoarse voices, barely able to speak. To prevent your professor or your professor friend from experiencing this kind of trouble, you can buy him or her a water bottle, which he or she will be able to take to class and use there at all times to stay hydrated.
You can choose a personalized water bottle, which would make a lovely personalized gift for professors or a fruit infuser water bottle for an extra yummy taste.
A useful gift idea for professors
The average professor spends many hours on campus and due to their hectic schedules, they are often forced to eat their lunch either at their desk or on the go. While eating lunch from an ordinary disposable lunch box may be chaotic and messy, using a large and durable insulated lunch bag with enough compartments and space to store sandwiches, fruits and veggies, snacks, drinks, and more. It's a practical gift for professors, one that will make your friend's lunchtime much more organized and pleasant and one he or she will surely be able to appreciate.
Choose a best-selling lunch bag with long-term insulation or a simpler waxed canvas lunch bag.
A functional gift for professors
Every professor needs a wireless presenter – a remote control, which enables them to shift between slides with a simple click and to point things out. Pointing things out on a screen manually and shifting slides using the keyboard requires the professor to stand right next to the screen and can be awfully inconvenient. Doing so using a remote control, on the other hand, enables the professor to move around the classroom freely. Therefore, a wireless presenter with a laser pointer would make lecturing a bit easier and more fun.
Any professor would appreciate a best-selling presentation remote, especially with a laser pointer.
A gift for professors that will help them get organized
Professors handle lots of papers. For each class, they need different teaching materials, plus they handle both unevaluated and evaluated exam papers. It's vital for them not to mix up all of these papers, files, and folders. Moreover, they also require space for other office supplies. As such, they really need a desk organizer that will help them store, organize, and compartmentalize their items and make their lives easier.
Choose a best-selling desk organizer with five upright sections, a double tray, and a sliding folder or one with 3 trays, a sliding folder, and a hanging file folder.
A present for professors that will help them plan their days
Professors have so many daily obligations and tasks. They have to teach several classes, get ready for those classes, prepare presentations, prepare exam papers, evaluate exam papers, meet with the students, attend campus events, and much more. Doing all of this without forgetting about a vital chore requires organizing your day, week, month, and sometimes even a whole year. Therefore, every professor needs a good planner to help them organize their time and keep the stress to a minimum.
Your beloved professor would benefit from either a yearly planner or a planner for an academic year.
An unwinding gift idea for professors
What should I gift my professor on his birthday? How about a wine glass? I realize that a mug is a more conventional gift choice, but most professors need a glass of wine way more than a cup of coffee, believe me! Plus, a wine glass for professors calls for numerous cool and funny designs and phrases, which will (in addition to the wine he or she drinks) surely brighten any professor's day.
Your professor friend would surely get a kick out of the best-selling 'Because students' design or a 'Before, after, and because students' coffee mug, wine glass, and shot glass gift set. A custom 'Because virtual teaching' glass, on the other hand, would make a lovely personalized gift for professors.
A funny gift for professors
Being a professor is a unique, exhausting, fulfilling, and fun profession. It comes with certain downsides, but it also involves lots of interesting perks, including being able to wear professor t-shirts with witty comments and funny designs. If you buy your favorite professor a cool t-shirt that sums up one of the ugly truths of this profession, you will surely be able to make him or her laugh.
Make your professor laugh with an 'Educational ninja' tee or an 'I am a professor' t-shirt.
A relaxing present for professors
Professors tend to have a lot of built-up stress. After all, they work with out-of-control students. And the nicest thing you can do for your professor or professor friend is to help them destress in one way or another.
One way to relieve stress is by coloring. As such, your beloved professor would be overjoyed to receive a relaxing yet funny 'This teacher is off duty' coloring book or a swear word coloring book.
The perfect farewell gift for a professor
What is an appropriate gift for a professor? A teacher appreciation gift box, for sure! Regardless of whether you and your professor got along great or not, the fact is that he or she was trying to impart valuable knowledge to you, and to a certain degree, he or she probably succeeded (given that you wish to buy him/her a gift). Therefore, a teacher appreciation gift box would make the best farewell or thank you gift for professors.
Choose a gift set with many thoughtful items or a spa gift box.