Chemistry is a fascinating area of scientific study that just about anyone can enjoy. Studying chemical reactions in day-to-day life is fun and captivating, so it's no wonder people love chemistry! If you know someone who loves to study chemistry, whether they're a student, a working professional, or just a hobbyist, you'll want to get them a gift that shows you care about their interests. But what do you get a chemist? So many different people study chemistry, so it's hard to group them all together. Check out this list to discover the best gifts for chemists!
Best gift idea for chemistry majors
Amazon.com
It's likely that the chemist in your life has filled mountains of notebooks in their life with formulas, equations and notes. If you've got a loved one who's studying chemistry, they'll adore this smart digital notebook. They can scribble their notes down, then upload them to the accompanying app on their smartphone to organize and share them! It's a surefire way to make their study lives easier!
Want more of the best gifts for chemistry students? You can't go wrong with a classic hardcover notebook, or an ingenious pen with a periodic table reference sheet!
Fun and educational chemistry themed gift ideas
Amazon.com
Just about anyone who's interested in chemistry also likely enjoys reading. Whatever their interest is, you're sure to find a book that will fascinate and inspire them. Whether it's a biography of Madame Curie or Chemistry for Dummies, they'll thank you for a chance to learn something new about their favorite subject!
If you've got a younger chemist, search for a chemistry-focused book for kids to nurture their fascination with the world around them. You could also consider a cookbook if the chemist in your life can often be found in the kitchen!
Creative gift ideas for chemists
Amazon.com
No chemist can go through their career without owning at least one copy of the Periodic Table of Elements. It's at the core of their study and work. So how do you make it more interesting? Get them a copy of the periodic table that includes real-life samples of the actual elements (okay, not the radioactive or dangerous ones, but you get it). It's the perfect decor item for any chemist, whether they're a teacher, student, or just a hobbyist!
Looking to help them decorate their space with chemistry-themed gifts? Consider getting them a set of vintage chemistry prints or a chemistry-themed wall clock!
Quirky gift idea for chemistry and wine enthusiasts
Amazon.com
Chemists work hard, so there's no shame in kicking back and enjoying a glass of wine after a long day. They'll get a kick out of these unique novelty wine glasses shaped like beakers! Whether they're a casual wine drinker or practically a sommelier, they'll appreciate that you thought of them and what makes them tick.
But what if they're not so much into wine? If beer is more their thing, get them a super cool chemistry bottle opener or a set of beer glasses!
Unique gift for chemists who love to cook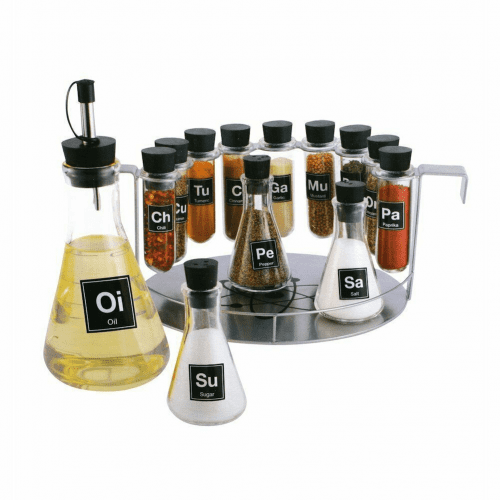 Amazon.com
Cooking is really just everyday chemistry in action, so it's no wonder if your chemist loves to cook or bake. Encourage both interests with this fun novelty spice rack designed to resemble chemistry flasks, with periodic table-style labels. It's a gift that will make them laugh and smile, but they'll be reaching for it at every meal!
Looking for more creative and thoughtful gifts for chemists who love to cook? Consider this periodic table cutting board, or blow their minds with a gastronomy set (this is a great gift for kids who are interested in cooking as well)!
Beautiful and stylish gift for chemists
Moleculestore.com
Just because your chemist spends long hours in a lab, that doesn't mean they can't still show some style. Jewelry is always a great gift, since everyone loves a bit of sparkle. They'll love it even more when they see that it's a unique chemistry-themed piece! Whether it's a DNA strand or a caffeine molecule, they'll love that you thought of them and it will make a treasured keepsake gift for years!
For more fun and quirky chemistry-themed jewelry gifts, why not check out these fun beaker earrings, or this serotonin and dopamine molecule ring!
Great gift idea for kids who love chemistry
Amazon.com
Who doesn't love a gift that's both fun and educational? Kids love learning about the world around them, and studying chemistry is an excellent way to do that, since reactions are something they can see and feel for themselves. But you want them to be safe and learn in a healthy environment while still allowing their imaginations to go wild. Get them a kid-friendly chemistry set and they'll have hours of fun exploring each project and learning a bit more in the process!
Want more ways to nurture a budding chemist's mind? For very young kids you could consider these chemistry-themed building blocks, and older kids will love learning with a molecular building set!
Fun and educational chemistry gift for the whole family
Amazon.com
If you've got kids who've shown an interest in chemistry, you'll want to get them a gift that's educational, but also something that will keep them interested. But if you can find something that's fun, educational, and gets the whole family together? That's how you know you've got the perfect gift! Choose a board game that's age-appropriate for all the members of your family and you'll know that your young chemist is enriching his mind while having fun doing it!
If you're looking for more chemistry-themed board games, check out some bestsellers like Periodic or Ion!
Fun and educational chemistry gift for the whole family
Amazon.com
The best gifts are the ones that are functional while still being fun! Every chemist loves to decorate their space with items that show off their area of expertise, but it's even better when the decor has a purpose. And better purpose than to snuggle up under their very own periodic table throw blanket after a long, hard day? This colorful throw looks great draped over a sofa or bed, and it's a soft, inviting gift that they'll use every single day!
For more home decor gifts that your chemist is sure to love, why not get them a chemistry-themed throw pillow or a shower curtain!
Gifts for chemistry teachers
Etsy.com
Who doesn't love a t-shirt that expresses their interests and hobbies? The same goes for anyone in a scientific field or someone with a specific interest. T-shirts also make the perfect gift for teachers, parents, or even graduation gifts, if they're going into the chemistry field.
Looking for more fun and stylish gifts to give your favorite chemist? Maybe these novelty chemistry socks or this periodic table scarf will be perfect for them!
Can't-fail chemistry present for secret Santa
Amazon.com
Coffee mugs are the age-old standby for stocking stuffers, secret Santa parties, or teacher gifts. But that doesn't mean they have to be boring! Skip the "World's Best Chemist" mug and go for one with a fun and interesting design, made to look like a beaker and featuring a caffeine molecule! It's an interesting take on a classic gift, and they'll think of you every time they reach for their morning coffee!
If you're looking to spruce up your coffee mug gift, you can always include some molecule coasters to complete the ensemble!