Are you stuck in your search for a great gift that starts with Y for the office gift exchange? No need to worry. You will find all the best gifts starting with Y right here, including gag gifts like this yodeling pickle
A thoughtful health-boosting gift that starts with Y
Dailyyoga.com
Yoga is one of the healthiest forms of exercise. It strengthens the muscles, increases flexibility, and improves balance. In addition, it involves breathing exercises, mindfulness, and meditation, and thus relaxes the body, and unwinds the mind. Therefore, encouraging your friend to do yoga is one of the most thoughtful and caring things you can do for them. The best way to do so is by buying them a yoga app subscription.
When it comes to yoga apps, Daily Yoga is one of the most popular options. Alternatively, you can also go with Yoga Studio App or Gaia.
An endlessly entertaining gift beginning with Y
Youtube.com
OK, so we all use YouTube, and while a few years ago using the free version was good enough, nowadays, it just isn't! The countless ads and very limited features make the Premium version almost irresistible. The Premium version will enable your friend to watch countless videos without ads, download them, and play them uninterruptedly in the background. Due to the endless amount of educational, entertaining, and informative videos available, YouTube Premium makes for a great gift that starts with the letter Y. If you buy a one-month subscription, it makes for a cheap gift that starts with Y. The yearly option, on the other hand, is more expensive.
Of course, you can opt for any other music or video streaming platform, such as Spotify or Netflix, but these aren't gifts that start with Y.
A practical fitness present that starts with Y
Amazon.com
Due to yoga's many undeniable health benefits, nowadays everybody is crazy about this relaxing, muscle-strengthening, flexibility, and balance-improving workout. If your friend is one of the countless yoga fans or if they simply wish to see what all the fuss is about, then a full yoga set with a yoga mat, yoga blocks, and perhaps a strap or a towel is the perfect gift that starts with Y for them.
If you think your friend may already have a full yoga set, you can always go with any individual yoga accessory or perhaps surprise them with a best-selling yoga book.
A luxurious gift that starts with Y for her or him
Amazon.com
Yves Saint Laurent, also known as YSL, is a French luxury brand, which markets clothes, shoes, jewelry, and beauty products. They are also one of the leading brands in the fragrance market. Therefore, a wonderfully scented eau de toilette or perfume by Yves Saint Laurent would make a lovely gift that starts with the letter Y.
If you are searching for a nice gift that starts with Y for him, opt for the best-selling Y or any other YSL fragrance for men. On the other hand, if you wish to surprise a female friend, choose a YSL fragrance for women.
A musical gift idea that starts with Y
Amazon.com
Is your friend by any chance an aspiring or professional guitar player? If so, or if he or she has just been talking about learning to play the guitar for ages, then buying them an acoustic guitar would surely draw a huge smile on his or her face. And when it comes to acoustic guitars, Yamaha is one of the leading brands. Therefore, a Yamaha guitar would make a nice musical gift that starts with Y.
Instead of a Yamaha acoustic guitar, you can also choose a Yamaha electric guitar, a set of Yamaha drums, or perhaps a Yamaha keyboard or digital piano – whichever instrument your friend can play or likes the best.
A crafty Christmas gift that starts with Y
Amazon.com
Are you looking for a unique secret Santa gift beginning with Y or an artistic gift for a creative person who is into handcrafting for any other occasion? If so, a yarn kit may be a wonderful option. A yarn kit with acrylic yarn of many different colors and other tools will enable your pal to create their own wall hangings, ornaments, pom-poms, tassels, and more. It will keep them busy and excited for ages.
If your friend already has most of the tools, you can also buy a simple yarn pack or impress them with a lovely yarn bag.
A delicious gift starting with the letter Y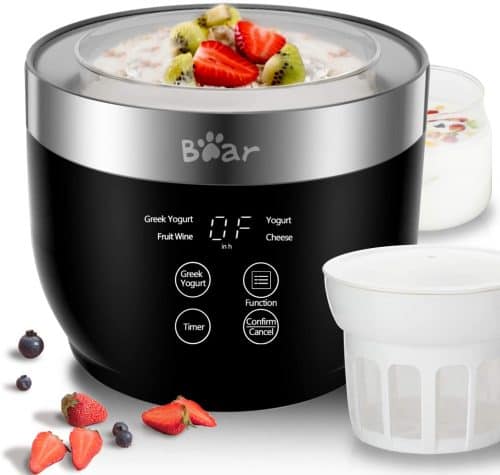 Amazon.com
A simple yogurt is kind of an underwhelming gift, even if the recipient is a huge fan of yogurts. Nonetheless, buying a yogurt maker could potentially hit exactly the right note! It would enable your friend or family member to make their own yogurt and thus ensure that they never run out of their favorite food again. In addition, by eating homemade yogurt instead of store-bought one, your friend will eat healthier, which is a great bonus!
Choose a yogurt maker that acts like a fruit winemaker, cheesemaker, yogurt maker, and greek yogurt maker.
A practical present that starts with Y
Amazon.com
Yumbox is a lunch box that features everything you have wanted in a lunch box. It is high-quality, durable, completely leakproof, lightweight, portable, perfect for traveling, easy to clean, designed to fit the right portion sizes, and compartmentalized to promote healthy, balanced eating. Plus, it is suitable for both kids and adults! With Yumbox, your friend's search for the perfect lunch box will come to an end.
Impress your buddy with the original Yumbox, the Panino version with 4 compartments, the Tapas version, or the smaller Minisnack.
A cool toy that starts with Y
Etsy.com
Unless you are a billionaire, you probably don't go around buying people yachts. But you could, however, surprise your friend with a yacht toy or model! First of all, many people collect these kinds of yacht, plane, and car models and may appreciate a new addition. Secondly, if your friend wants to get rich and buy an actual yacht one day, having a model may serve as the motivation they need to fulfill their dreams.
On the other hand, if you are looking for a great gift that starts with the letter Y for kids, you may want to choose a fun remote control yacht or a Lego yacht instead.
A life-changing gift that starts with Y for adults
Amazon.com
When it comes to personal growth and self-help, this is one of the best books you will ever be able to read in your life. It is designed to identify and change the self-sabotaging beliefs and behaviors that stop us from getting what we want, help us to understand and accept ourselves, and help us create a life we truly want. How do I know? Well, because just a few weeks ago I bought the book for one of my best friends, and ever since she read it, she beams with optimism, self-esteem, and joy. It is safe to say that this is a truly eye-opening and life-changing gift that starts with Y.
As the original book was such a huge hit, you can surprise your friend with a complete collection of 4 books by the author or buy them a weekly or monthly calendar.
A funny gift beginning with Y
Amazon.com
Is your friend a huge Star Wars fan? If so, any Yoda-themed merchandise would make the best gift that starts with Y for them! Make your friend laugh with a funny Yoda mug or draw a huge smile on their face with a thoughtful 'Yoda best' mug.
Alternatively, you can also buy a Yoda plushie, tee, or any other Yoda gift.