Looking for a worthy present that starts with the letter W? We've got you covered! Choose one of these wondrous gifts that start with W. You will find serious gifts as well as funny gifts like this People of Walmart coloring book.
An advanced gift that starts with W for him or her
Amazon.com
Anything wireless would make a gift that starts with W, but wireless headphones are probably the most practical of all wireless devices and gadgets and therefore make for the most useful wireless gift that starts with the letter W. Wireless headphones come in all forms – wireless earbuds, on-ear, and over-ear headphones. They enable the user to listen to music, podcasts, audiobooks and even make phone calls without hands or wires and they are incredibly convenient for people who like to use headphones while working out, doing chores, working, or moving around.
Wow your friend with wireless earbuds or wireless over-ear Bluetooth headphones.
A wellness gift that starts with W for her or him
Visittheusa.com
Considering the fact that you are doing your best to find a great gift starting with the letter W for someone, you obviously wish them well. And the best way to make sure this person really feels well is to buy them a relaxing wellness experience that will boost their well-being and make them feel fresh and restored. Treat your friend to a pampering experience – he or she deserves it!
Alternatively, you can buy your loved one a wellness and relaxation product, such as an essential oil, a diffuser, or a massage tool. You can also impress them with a full wellness gift set.
An educative gift that starts with the letter W
Amazon.com
If your friend or loved one is an entrepreneur or businessman or if they simply want to pursue excellence and reach their full potential, they should definitely read the book What It Takes: Lessons in the Pursuit of Excellence. This book by Stephen A. Schwarzman – a billionaire philanthropist and author – is considered one of the best wealth management books and is designed to teach the reader how to succeed in business and life, accumulate wealth, reach goals, and maximize potential.
Alternatively, you can impress your friend with another best-selling book on wealth management or choose a lovely fiction book starting with W, such as Water for Elephants, instead.
A beautiful present that starts with W for travelers
Etsy.com
Is your friend a passionate traveler and adventurer who is eagerly awaiting his or her next journey into the unknown? If so, nothing would make them happier than to receive a wonderful world map wall art, with which they would be able to decorate their home and display it proudly. Such a wall decoration would also serve as a motivation reminding them that someday soon they will spread their wings again and fly away to explore the world.
Surprise your buddy with a wooden world map wall art or perhaps a metal one. In case your friend is a child or an artist at heart who loves to color, buy them a World Map Coloring Tablecloth, which makes for a fun learning present that starts with W.
A warm winter toy that starts with W
Amazon.com
When it comes to plushies, Warmies are currently the trendiest and truly the most wonderful option. Warmies are microwavable French lavender-scented plush toys. Due to their relaxing scent and soft, warm material, Warmies are probably the most comforting toys your friend has ever seen. They are great for relieving stress, reducing anxiety, and soothing a tummy ache. Warmies are particularly popular during the cold winter days, as such, they would make a magical Christmas gift that starts with W.
Wow your loved one with a cute, warm teddy bear or a fun sloth-shaped Warmie.
A practical and cheap gift that starts with W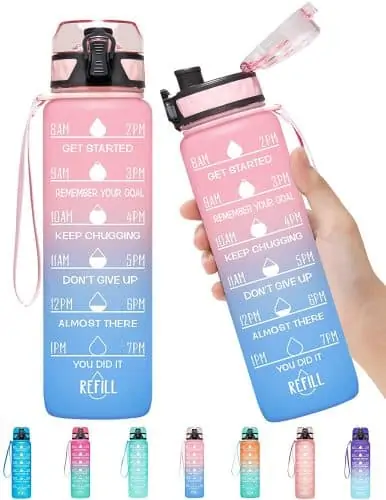 Amazon.com
Staying hydrated at all times is one of the most important steps in staying healthy. And most of us simply don't drink enough water. As such, buying your friend or family member a water bottle, which they will be able to carry with them at all times and that will remind them to drink more and thus help them to stay healthy, is a great gift idea that starts with W.
You can choose a water bottle with motivational time markers or impress your pal with a thoughtful personalized one.
A romantic secret Santa gift beginning with W
Amazon.com
WoodWick candles are not your regular candles – they are much more than that! They come with many different soothing scents that can make you feel energized or relaxed in a matter of seconds. Each candle arrives in a thick glass vessel with a wooden lid and in an elegant gift box. They are fully recyclable, plus, their special Pluswick technology creates the soothing ambiance of a crackling fireplace.
An elegant WoodWick Aura candle or a Nature's Wick candle both make for a sensational gift that starts with W.
A comforting winter gift that starts with the letter W
Amazon.com
Winter is the time of year we spend either with our loved ones or in the comfort of our own homes reading books and drinking tea while snuggled into a soft, warm blanket. Indeed, winter is cold without a body and heart-warming blanket and a home cannot be called a safe haven if it doesn't come with the comfort of a wool blanket. As such, a wool blanket makes for a comforting winter present that starts with W.
Enable your friend to snuggle into a queen or king-size blanket or blow his or her mind with an amazing knitted wool blanket.
A unique gift idea that starts with W
Uncommongoods.sjv.io
If your plan is to impress your friend with a truly unique and exquisite gift that starts with W, you will surely succeed with an extraordinary wine bottle topper serving set. It makes for an ingenious picnic serving set or an elegant centerpiece on your dining table. The tabletops are made of organic bamboo, therefore they are light and portable. And as any wine bottle (either empty or full) makes for a perfect table leg, your friend will surely always have a place to put the serving set.
Alternatively, you can go with a wine board or a cool portable wine table.
A fun gift that starts with W for adults
Amazon.com
Wine bottle puzzles are the ultimate party game for adults. If your friend or loved one likes to play games, drink wine, and party (don't we all?), then this is the perfect gift idea that starts with W for him or her. This brain teaser game will challenge your friend's mind and make them laugh hard. It is the ideal entertaining and funny gift beginning with W.
Your friend may also love any other wine game, such as Wine Wars or Wine-Opoly.
A sleek gift starting with the letter W
Amazon.com
Wooden watches are incredibly popular nowadays. In case your friend is one of the many people who find them irresistible, he or she would surely be thrilled to get one. Wooden watches are made of natural materials, most of them have adjustable bands, are durable, and offer numerous important features. Most importantly, they are comfortable, unique, and they look amazing!
Draw a big smile on your friend's face with a sleek Bewell wooden watch or a cool Bobo Bird watch. Either of them would make an awesome gift that starts with W.